500,000 $MNT Mantle Journey Season Alpha Explorer Event
08/29/233 min read

by Mantle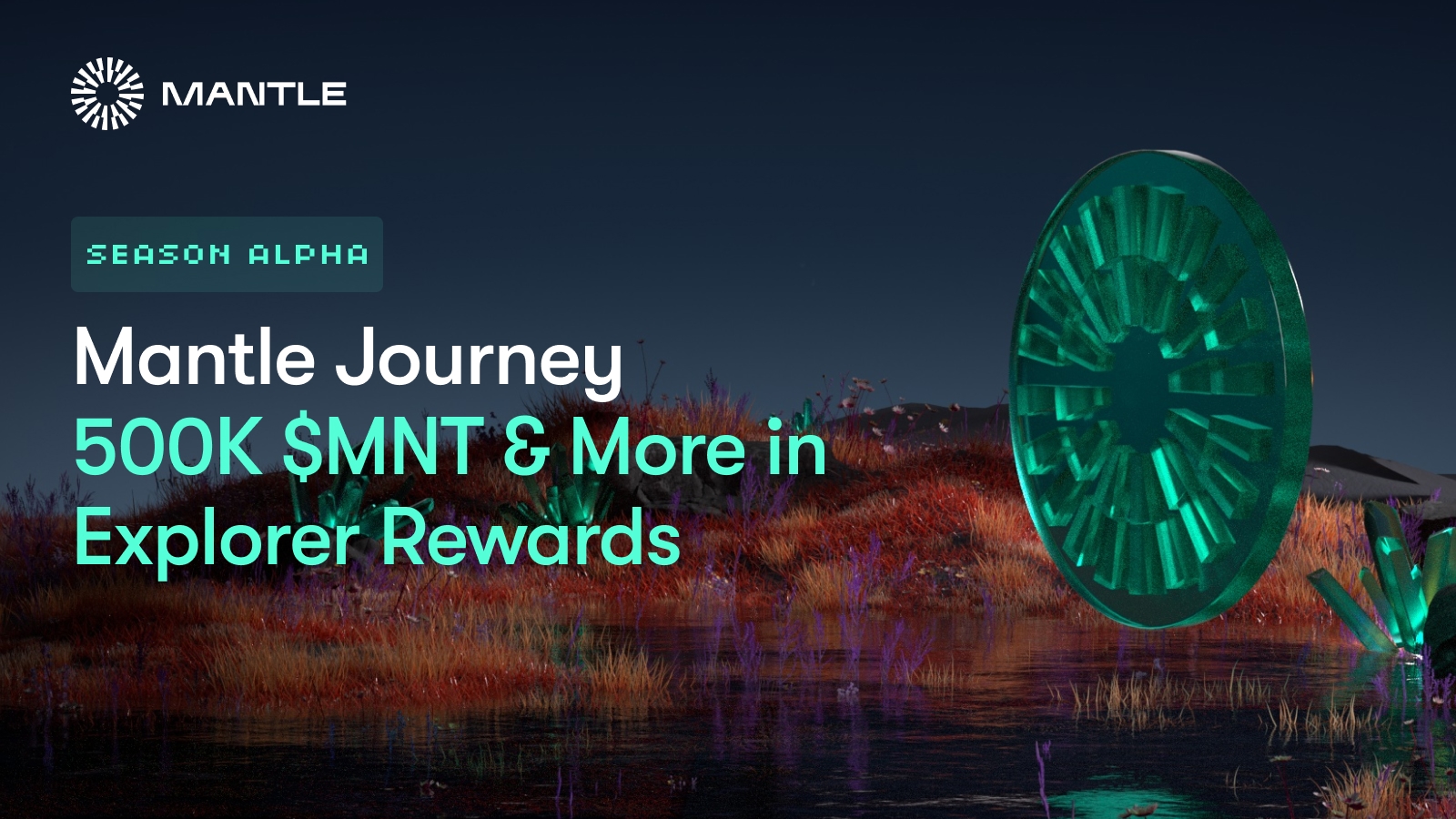 To celebrate the launch of Mantle Journey, we're excited to finally bring you token rewards totalling 500,000 $MNT, plus 20,000 whitelist spots for our Citizens of Mantle NFT for those who are currently on the waitlist — a fine bounty for the ecosystem's first entrants!
Event Period: Aug. 29, 2023, 1PM UTC to Sept. 12, 2023, 1PM UTC
Your Mantle Journey Entry Pass
To qualify for rewards, you will need to sign up for Mantle Journey during the event:
Connect Wallet: Connect your wallet via MetaMask, WalletConnect or Bybit Wallet
Mint Mantle Journey Soulbound Token (MJSBT): Make sure to mint your unique SBT to begin!
Explorer Rewards
(1) 20,000 Citizens of Mantle NFT Whitelist Slots
This reward is reserved only for explorers who satisfy both of the following requirements:
Within the first 20,000 users to sign up and mint MJSBT
Joined the waitlist from our first round of Citizens of Mantle NFT release
We thank the community for their utmost support over our inaugural NFT collection. With this event, another 20,000 NFT whitelist slots for those who fulfil the above conditions will be distributed on a first-come, first-served basis.
(2) Lucky Hash: 500,000 $MNT
For all explorers who've minted their MJSBT during the event period, we will be randomly picking a number from 0-9 at the end of the event. The first 5,000 users whose MJSBT minting transaction hash ends with the random number picked will each receive 100 $MNT.
The chosen ending hash digit and winners will be announced within 10 working days of the event's end date.
Mint MJSBT Now
For more on Mantle Journey, check out our resources here:
---
Terms & Conditions
Participants must connect their wallet and mint their MJSBT in order to be considered for any rewards. The Citizens of Mantle NFT whitelist slot is only available for users who are already on our current waitlist and fulfil the conditions as stated above. Users who are not on the waitlist are not eligible. The Lucky Hash segment is open to all participants and winners will be selected based on the randomly-selected ending hash digit and final transaction hash on a first-come, first-served basis.
Winners of the Citizens of Mantle NFTs will be able to mint it when the mint period opens. Please stay tuned to our socials for further announcements. Winners of the Lucky Hash segment will have their $MNT rewards distributed to their wallet address within 10 working days of the winners' announcement.
The use of bots, cheating and multiple submissions will result in disqualification from this event. Sybil attackers will also be identified and disqualified. In the event a selected winner is disqualified due to these reasons, another will be selected in their place.
If you have any questions, please reach out on our Discord channel.