Mantle Journey: Create Your Profile to Access the Season Alpha 20M $MNT Reward Pool
08/29/234 min read

by Mantle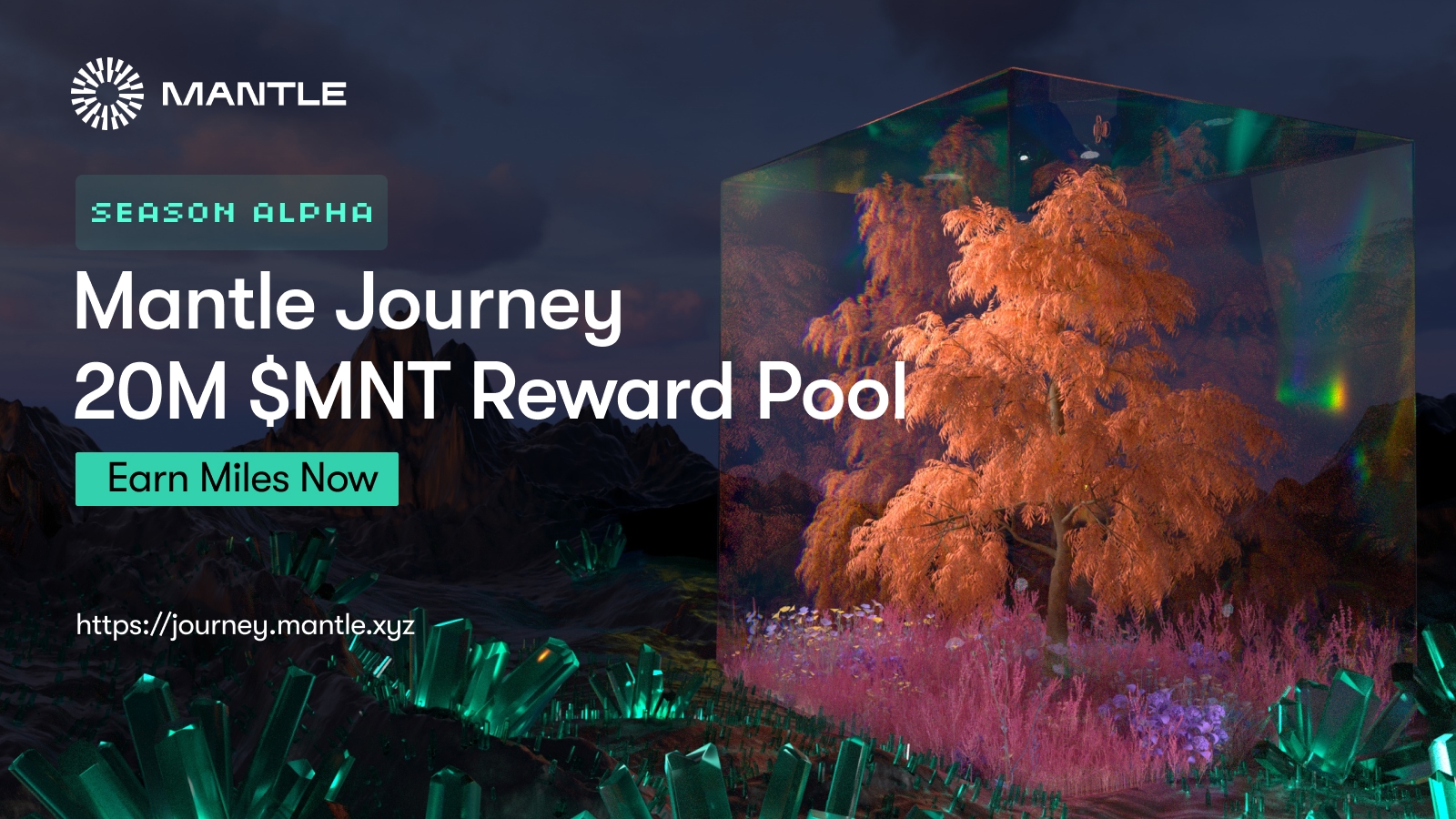 Embark on an exciting journey to the new Mantle Ecosystem with us, where you'll earn rewards as you evolve and grow with Mantle.
After a month into Mantle Network Mainnet, we now invite all of you to leap into Mantle Journey, an open-access and performance-based program designed to track and index your ecosystem activities and distribute highly-anticipated incentives to each participant fairly.
In its initial pilot phase, Season Alpha, all participants can earn Mantle Journey Miles (MJ Miles) and unlock tiered rewards from a 20,000,000 $MNT reward pool at the end of the season.
The program will consist of multiple seasons, each lasting several months. Each season will have dynamic miles calculation rules and reward calculation rules.
Mantle Journey Benefits:
Creating and sustaining a burgeoning ecosystem with regular community participation on Mantle Network
Ecosystem activities are structured and outlined clearly for community participation, which are then categorically and accurately tracked
Systematic rewards distribution based on a miles accumulation model with every season's available activities
This is a journey of limitless opportunities and innovation for every explorer — shape your unique Mantle experience with Mantle Journey today.
All you need to begin is create your Mantle Journey Profile.
Season Alpha Kickoff
We're kickstarting Season Alpha on Aug. 29, 2023, 1PM UTC. During this season, we will gather feedback from the community, identify challenges and make any critical improvements to gear up for the launch of the first official season.
Limited off and on-chain activities will count towards the earning of MJ Miles, calculated after you've created your Mantle Journey Profile and minted your Mantle Journey Soulbound Tokens (MJSBT). These activities include:
Mantle Network transactions
Mantle Network Total Value Locked (major assets)
Application specific activities (bridging or interacting with registered smart contracts)
Other social media and governance activities
Not only that, but for every supporter who has contributed to Mantle Network Testnet since the early Mantle days, your testnet contributions before July 7, 2023, 23:59 UTC will be counted for MJ Miles.
To give you an added boost to joining Mantle Journey, stand a chance to win one of 20,000 Citizens of Mantle NFTs if you missed out on the whitelist and are currently on the waitlist, and also a share of 500,000 $MNT in rewards with the launch Explorer Event. Fastest fingers first!
This Way to 500K $MNT Launch Event
MJ Miles to Rewards
With every activity you complete, your MJ Miles balance will grow. At the end of the season, your total MJ Miles will unlock tiered rewards, including but not limited to a rewards pool of 20,000,000 $MNT, and other potential incentives such as rare Citizens of Mantle NFT traits, ecosystem rewards, whitelist for new drops and more. Further announcements will be made for the unveiling of these rewards.
The path to earning MJ Miles differs for every participant as there are multiple ways to engage with Mantle Ecosystem — start exploring today to create the most optimal miles collection strategy for you.
Initially, the Mantle core contributor team will determine the weights and caps attached to each activity when converting them into miles. This includes account disqualification criteria and the calculation process for points and season rewards. Specific rules will be revealed periodically before the end of each season. In future seasons, the community will have the opportunity to provide feedback, and improvements will be made based on the analysis of prior seasons.
For more details on the activities that will help you accumulate MJ Miles, check out the MJ Miles guide here.
How Do I Gain MJ Miles?
Get Started in 5 Easy Steps
Visit https://journey.mantle.xyz to access the portal to Mantle Journey
Mint your MJSBT
Verify social media accounts such as X/Twitter, Discord, Steam and GitHub
Customize your Mantle Journey Profile
Start engaging in mile-earning activities!
Step-By-Step Navigation
Upcoming
Mantle Journey Leaderboard so you can see the top contenders amongst you
Mantle Journey AMAs and community discussions
A summer blast of Mantle Journey campaigns, starting with the 500,000 $MNT event
Collaborations with partners and protocols to add more activities to the mile-earning list
Bon voyage!