Recap: Mantle at #ETHDenver
03/15/239 min read

by Mantle
Crypto
DeFi
Ecosystem
Events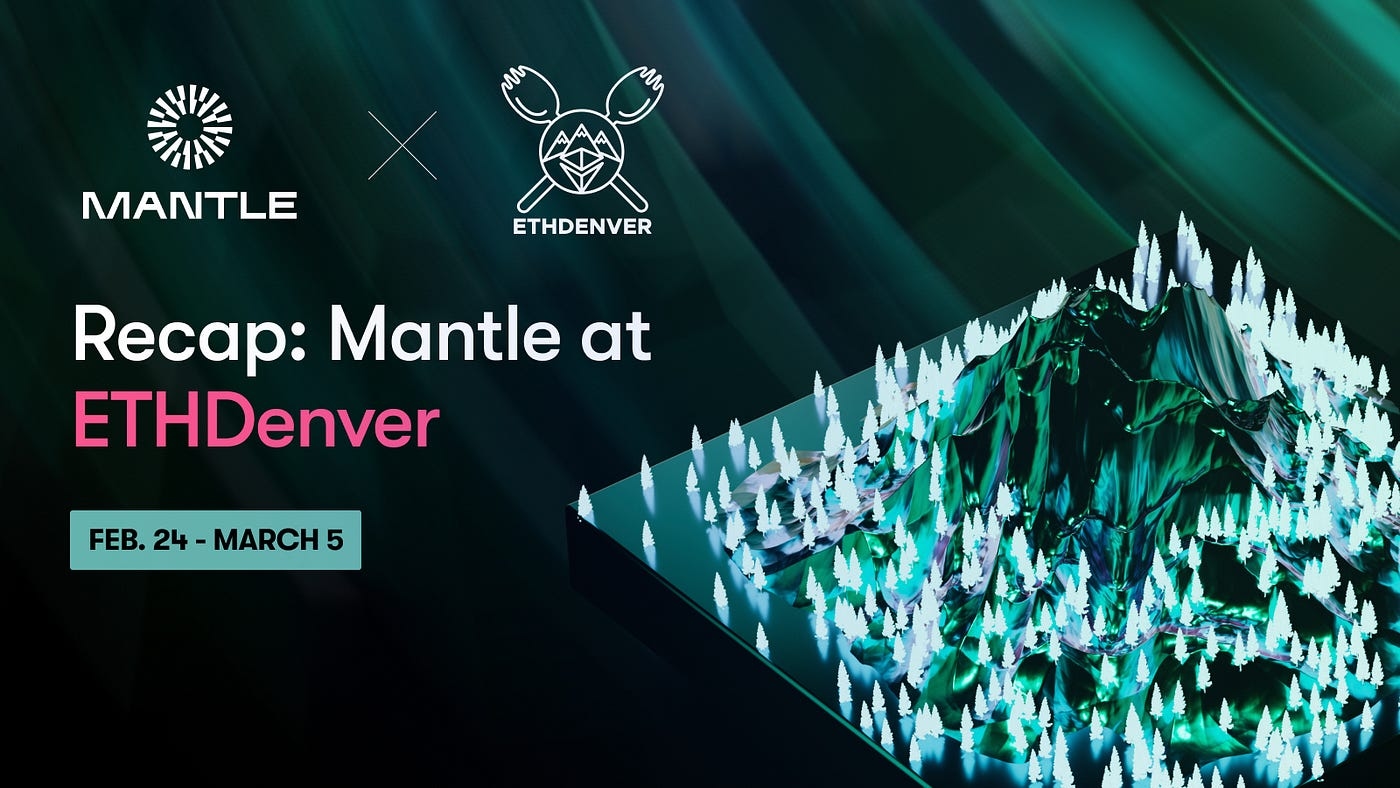 The Mantle team stepped into March by congregating at the most-anticipated stop in the global trek of ETH events — ETHDenver — as they met EVM enthusiasts, crypto mavens, established web3 giants and potential, like-minded collaborators. All while spreading the word of Mantle out there on stage, putting names of our supportive Mantle community to faces IRL at our booth, hosting mega hackathons, and being a part of activities hosted by our ecosystem partners.

Photo Credit: Tim Gillies
It's hard to summarize Mantle's biggest week yet in the famed Mile High City and the whirlwind of events that happened during ETHDenver, but here's our best roundup:
1. In the Limelight
Key Mantle team members such as Head of Ecosystem Arjun Kalsy and Head of Product jacobc.eth, sat center stage at multiple panels and gave keynote speeches. From espousing the future of shared security via rollups and sidechains, to grabbing the download on modular Layer 2s (L2s) with our partner EigenLayer, Mantle led the charge in the discussion of fresh innovation on L2s.

Photo Credit: ETHDenver
Mantle had the opportunity to join other key ecosystem partners from the BitDAO ecosystem such as Game7, EduDAO and HyperPlay to zoom in on the trials and tribulations of building a sustainable ecosystem in crypto today. The solution comes in the form of decentralized autonomous organizations (DAOs), and in particular, a two-treasury approach that separates both infrastructure and ecosystem building.
Any growth of any moving parts in BitDAO's massive ecosystem is a new added resource for the participants of Mantle Network, and paves the way for future synergies and expansion of the dApp ecosystem at Mantle.
2. Table Talk
Fun times were had at the Mantle booth, where the team spoke with curious event-goers, potential project partners and long-time Mantle supporters — getting to speak with the community on the ground about what they truly thought about L2s and web3.
We strived to get a better understanding of the challenges that developers, builders and users were experiencing with existing solutions and offerings. A big thank you to booth visitors for generously sharing their thoughts — all critical opinions that will go a long way in helping us build the L2 that the industry needs, especially in the lead up to the Mantle Mainnet launch.
And for those who swung by and managed to take Mantle's very first SWAG bag home, we hope they come in handy for day-to-day use!
3. Building Community at Hackathons
Hackathons help Mantle to connect personally with the best developers and builders in town — and we were thrilled to sponsor $20,000 in bounties across various building challenges and multiple categories such as DeFi, NFT, DAO tooling and infrastructure, and more. Non-building challenges were put into the mix as well, as we urged participants to create their best Twitter thread on Mantle and to come out on top in a trading competition.
To get builders started, Mantle's developer relations gigabrain Libevm did a walkthrough for all the aspiring Mantle builders to deploy their unique smart contract on the network. If you've ever heard people talk about "learning from the best", this is it.
Along with the presentation, we have many other resources for developers on our blog and documentation! But what is better than live smart contract tutorials?
4. Ecosystem Partner Events
Mantle was proud to partner with Sozu Haus and EduDAO as they hosted several super hackers at a hacker house, and again with Sozu Haus on two workshops with SupraOracles and MetaMask Snaps.

Photo Credit: HomeDAO
The events culminated in a "Bring Your Own Steak" BBQ with Sozu Haus — cheers to good food, good conversations, and good company with members from the whole ecosystem's collective community.
We loved BUIDLing and collaborating with different teams and communities throughout the week. And as Mantle gears up for its mainnet, we invite all builders and partners to join us on this journey to accelerate global mass adoption of web3. Reach out to the team if you'd like to be a part of the Mantle ecosystem as a partner or builder and we'll get you started.
---
Follow Mantle on socials and be the first to catch updates to new exciting proposals, feature updates on testnet and more. Currently ongoing are proposals on Mantle zkEVM research and a $200 million catalyzed capital pool for a brand new Mantle EcoFund, and multiple hackathons and events — check them out and leave us your comments!