Mantle Milestones | Q1 2023 in a Gist
03/31/2312 min read

by Mantle
Ecosystem
Events
Hackathons
Partners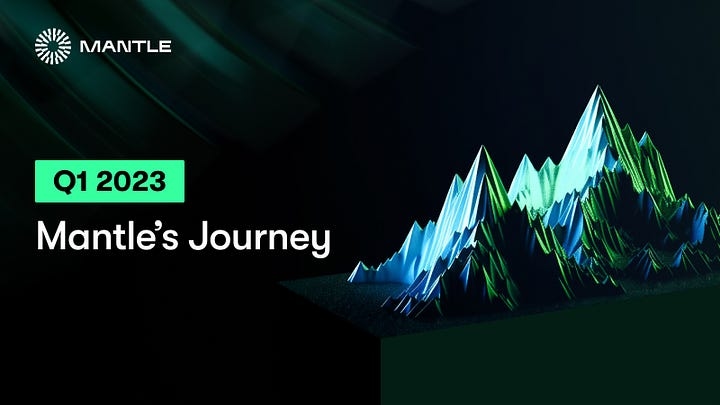 Mantle began the year with a highly-anticipated testnet launch on Jan. 10, 2023 — a distinctive starting point for this new network on the block, as we welcomed builders, developers, ecosystem partners, collaborators and more into the big Mantle family.
And as we charge into the second quarter, it's time for a throwback to all the momentous Mantle events that transpired in the past three months.
From high-value partnerships, to exciting integrations, and mind-blowing potential of the projects built, we kicked off 2023 on a high. We've had thought-provoking global conversations with established and growing teams in the industry, and went on a global trek of IRL events, where we got to know the diverse Mantle dev community.
Before we move on to a brand new round of innovations on the network beginning April, let's go down the Q1 Mantle checklist:
Testnet Launch
Our very first major milestone — launching Mantle Testnet for stress-testing by all builders. For the first time, developers could personally try building on an Ethereum layer-2 (L2) network designed to integrate modular architecture. More importantly, they could test out how having a separate, decentralized data availability layer, made possible by Mantle DA as powered by EigenDA technology, would work in building decentralized applications (dApps).
Since the launch of Mantle Testnet, we're happy to announce we have achieved:
Total Transaction Count > 2,800,000
Unique Smart Contracts > 33,000
Unique addresses that have deployed contracts > 22,000
Going forward, it's all hands on deck as we move toward focused development over the other aspects of the stack. On top of that, Mantle remains deep in its thorough optimistic (OP) and zero-knowledge (ZK) rollup research and possible implementations. Discussions are still ongoing on a zkEVM approach in Mantle's overall roadmap.
We stay committed to providing builders and users with industry-first technical advantages on an Ethereum L2 network, bolstered by a well-established decentralized autonomous organization (DAO) in BitDAO, and a dynamic ecosystem of partners to take every great project from conceptualization to the end.
A large part of that involves providing developers with the resources and support they need to build, and we started off with the Mantle Grants Program — Mantle is ready to boost projects in different stages of growth that have immense potential to change the world of web3 now.
Partnerships, Integrations & Ecosystem Growth
We're proud to be partners with EigenLayer and get front-row seats to new innovations on data availability and more in the future — Mantle's decentralized data availability layer and the innovation that modularity makes possible is its critical core feature. As EigenLayer expands its offerings, Mantle is poised to be able to take on and implement those changes on the network, anytime.
Other recently announced partnerships include Covalent, Hash Case, moledao and Aragon.
Also introducing Mantle's very first integration with Bullieverse, one of the fastest-growing web3 gaming metaverses — we can't wait for the Mantle ecosystem to onboard the next million gamers.
This is the start of greater dApp development on Mantle — here's to bigger growth for not just the ecosystem, but the $BIT token that will be used as a gas fee token, staking token, and ecosystem growth token for anyone building on Mantle.
We continue to work with BitDAO and its various initiatives including Game7, HyperPlay, EduDAO, Sozu Haus and more to bring the Mantle community cross-initiative programs, events and resources. The $BIT community powers Mantle and has a say in all key Mantle decisions!
And finally, a huge shoutout to Bybit, Mantle and BitDAO's largest proponent by far. Bybit will be supporting Mantle on all things $BIT, and also, providing ecosystem support and resources to teams building on Mantle.
New Projects & dApps
After months of collecting responses from interested developers and teams, and following up on each and every application, we're thrilled to see our ecosystem expanding. From music, NFTs, gaming, DeFi and infrastructure to marketplaces and DAO tooling, Mantle is primed to take web3 further across multiple fronts.
Don't miss out on our weekly announcements!
Media, Hackathons & Events: Mantle Goes Global
Mantle has been and is currently making its way across cities and countries — both IRL and online — to directly reach out to new thought leaders, like-minded collaborators and developers. The team has been hard at work at colossal events such as ETHDenver, while hitting the ground running on other ETH and blockchain conferences.
At these events, Mantle has sponsored several exciting hackathons by far, amounting to $82,900 in bounties. We've also been involved in independent hackathons; in case you missed it, Mantle partnered with Gitcoin in February to deliver on our biggest one by far, the Mantle Mash Hackathon. We've received more than 310 submissions to date!
With every hackathon, we get to know more Mantle developers face-to-face and build connections far beyond the depths of code. We look forward to seeing buidlers bring new dimensions to the existing landscape in the realms of NFTs, gaming, UX, public goods, DAO tooling and infrastructure, and so much more.
We don't intend to stop here; we're in the midst of filling up the calendar with more events, meetups and activities!
In the meantime, check out some of our notable Q1 media mentions:
100,000 Reasons to Be a Part of Mantle
If you haven't been following, Mantle just hit 100,000 followers on Discord and is close to that milestone on Twitter as well! A big thank you to the Mantle community and our partners for having our backs since launch.
Getting involved in Mantle is easy — interact with other devs or users on any of our socials, send us your ideas and projects if you're interested in building on Mantle, or reach out and join Mantle's ecosystem as a technology partner.
The Best Meme of Them All
And to end off on a high note, here's a collection of the best Mantle memes we've collected this quarter — contributed and submitted to us at random, and also at this mega Meme Contest we hosted in March:
Next up: Mantle Mainnet! Stick with us as we prepare for Mainnet, and we'll continue sending exciting news on dApps, partnerships and features your way.