August 2023 Recap: Mantle Journey, September Events & More
08/31/234 min read

by Mantle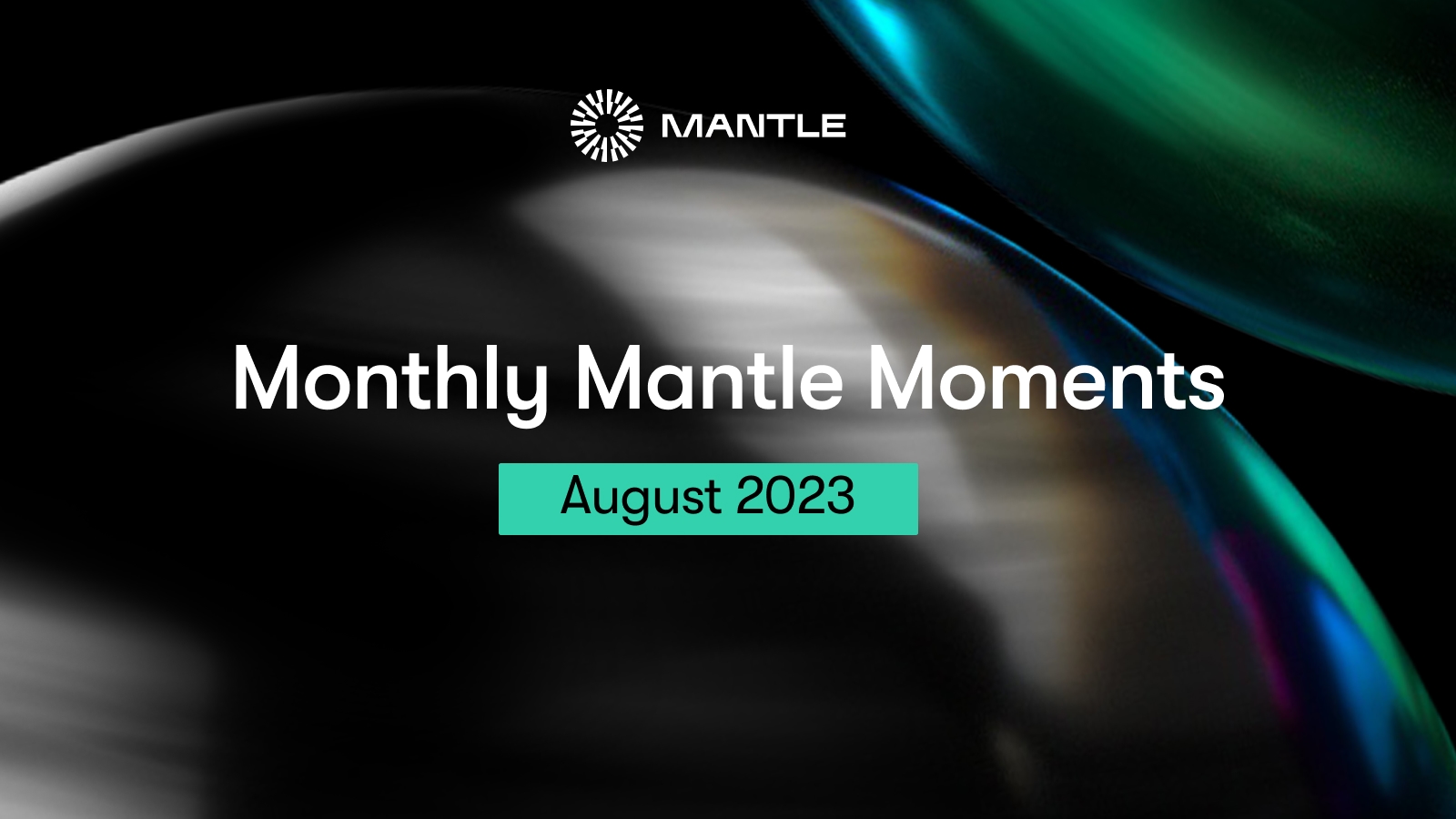 Six weeks have passed since the launch of Mantle Network Mainnet Alpha, and we're thrilled to see the momentum building on-chain! We're charging ahead in driving and accelerating the growth of Mantle Ecosystem with exciting news, collaborations and freshly-minted products — here's a debrief of what went down in Mantle this month.
On-Chain Highlights
Mantle Network reached a high in total value locked (TVL) on Aug. 8, 2023 at [92.2million](https://l2beat.com/scaling/projects/mantle).Sincethen,we'veseenmorethan75,000cumulativeusers,180,000transactionsand38.9 million in total dApps TVL at the time of writing.
Ecosystem Updates
We also welcomed another 22 new additions to Mantle Ecosystem on Mantle Network Mainnet, including Liquity, Crust Finance, QuestN, Rabby, DeBank, OKX DEX, MotoDex, Range Protocol, BattleDogs Arena, LYNC World, Transak, Sakaba, Biconomy, Frontier Wallet, ONTO, Builder Squad (Anyscan), DRPC, Axelar, Walken, Zonic and Cashtree. This brings the total number of dApps on Mantle Network to 80.
Key Highlights from Mantle Ecosystem Initiatives such as Game7 and EduDAO:
Game7 has partnered with CharmVerse to take DAO governance to the next level — users who join Game7 Nation can expect an experience that is coordinated, where roles and permissions are seamlessly integrated with the community. Game7's governance protocol, Summon, has also partnered with Gamer.xyz to gamify community involvement.
Following the success of student-focused activities hosted by EduDAO at EthCC in Paris, EduDAO students from the University of Pennsylvania and FranklinDAO brought home another win — a $2 million pre-seed round raise for their lending protocol, ION Protocol.
AMA Spotlight
At the same time, the Mantle team has been working hard on AMAs with some of these collaborators as we continue to push Mantle into the global spotlight for use by developers and users everywhere. We completed a total of 17 AMAs with ecosystem projects and media platforms, including Web3 Academy, Wise Crypto, Lendle and more.
Also on the list is the second episode of our DeFi Uncovered series with the team's ecosystem researchers and DeFi lead as we delved into discussions on Real World Assets, Liquid Staking Derivatives and more.
Ongoing Proposals & Discussions
MIP-25 on the establishment of a Mantle Economics Committee and ETH Staking Strategies was successfully passed — we have also proceeded with a 40K ETH deployment with Lido.
The newly formed Mantle Economics Committee then published a forum discussion on deploying a portion of Mantle Treasury's assets to support applications may lead to higher levels of success for the overall Mantle Ecosystem. To join in on the discussion, leave your feedback in the comments.
Mantle Journey & a 20M $MNT Reward Pool
If you were catching up on Mantle in August, you would have seen the team prepping for the unveiling of Mantle Journey, the engine behind Mantle Ecosystem's growth in the future.
Season Alpha of Mantle Journey, an open-access and performance-based program designed to track and index ecosystem activities of each community participant and distribute incentives based on miles earned, was launched this week. We built Mantle Journey so that Mantle's loyal supporters and new users can participate across the ecosystem, see that participation convert directly into tangible numbers and finally, unlock rewards based on their activities.
Community members can accumulate Mantle Journey (MJ) Miles by completing specific activities, including but not limited to network transactions, bridging, increasing total value locked, and other social and governance actions.
Accompanying the launch of Mantle Journey is a 20 million MNTrewardpooltobesharedbyallMJMilesholdersattheendoftheseasonandalso,a[500,000MNT launch event](https://www.mantle.xyz/blog/announcements/500k-mnt-mantle-journey-explorer-event) to give participants an added boost in exploring Mantle Journey.
In less than 48 hours, more than 50,000 community members have joined Mantle Journey!
In case you missed out on Mantle Journey's launch, create your profile and kickstart your unique Mantle experience today.
Ready, September, Go!
Mantle will see another jam-packed month of events across ETHWarsaw, Korea Blockchain Week, Ethereum Singapore and Token2049 in September. Catch our dev rel team members at hackathons, Mantle's Chief Alchemist Jordi Alexander in a variety of talks and panels in Korea, and also various Mantle team members at the Token2049 on-stage discussions and our mega booth.
Details on where you can find Mantle on the spot will be released on X/Twitter or our blog, and we're looking forward to connecting with you at any of these events!