Mantle's Guide to a Blockchain Summer in Paris
07/14/236 min read

by Mantle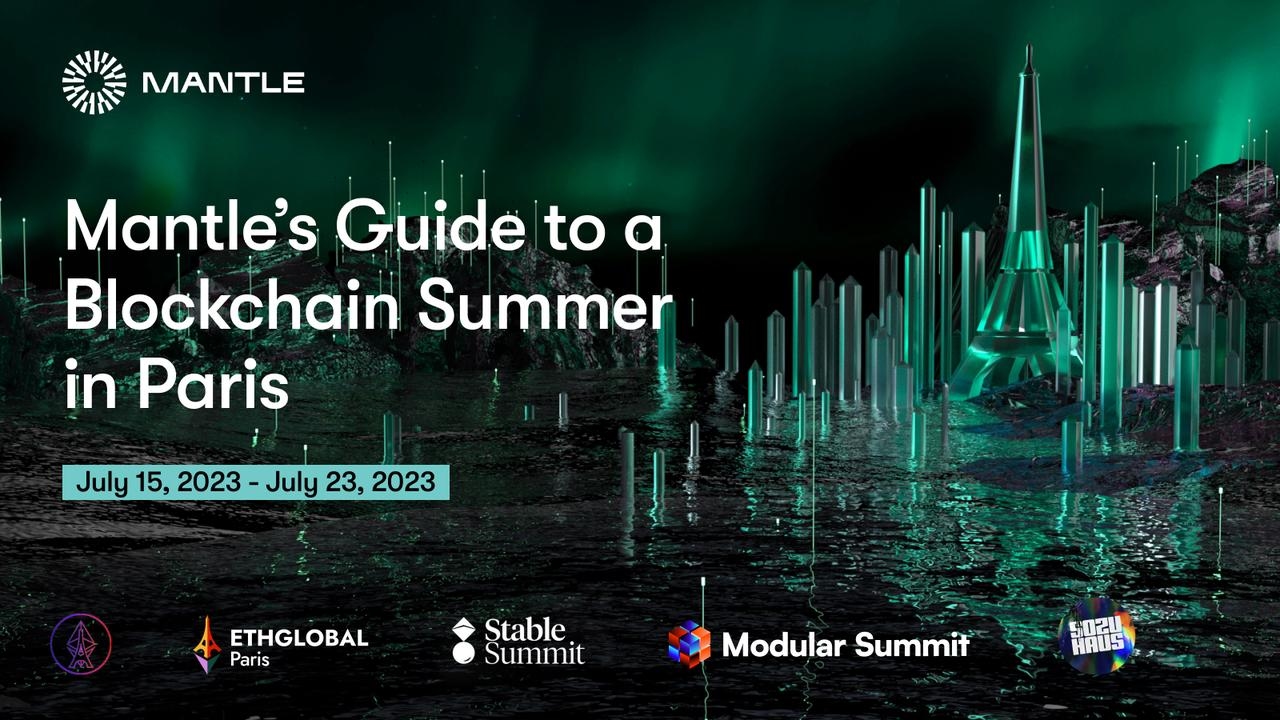 Mantle's Guide to a Blockchain Summer in Paris
In case you missed it, Mantle will be making a summer splash in Paris across five major events in the city from July 15, 2023 to July 23, 2023. From hackathons, panels, workshops, meetups and more, we are geared up to meet the supportive Mantle community, bring you exciting new updates and explore a brand new Mantle civilization together. There's so much to talk about — the recent rebranding, Mantle's development roadmap, testnet progress, and the Mantle team. And we're ready to get in on these conversations in depth, in person, across the next week and more.
A Comprehensive Guide to Mantle's Presence in Paris
Nine days. Five events. Here's a rundown of what Mantle will be up to at these events, and where you'll be able to drop by and say hi to the team for a chat or jamming session. For event-goers, you may also find information that you need on Mantle's latest development and event updates, and some surprises at the desk.
Kickstart Your Weekend at Stable Summit
From July 15 to July 16, catch the Mantle's first booth at Stable Summit! An exciting lineup of talks and workshops will get you immersed in the world of stablecoins. What's more, Chief Alchemist of Mantle, Jordi Alexander, will be speaking on how we should navigate the challenges faced in the multi-chain stablecoin ecosystem.
Booth: Table Number E1
Panel Talk: Managing Fragmented Liquidity in a Multi-Chain World | July 15, 2023, 11:45AM — 12:30PM (local time)
Jordi Alexander from Mantle, Irene Wu from LayerZero, Garry Krugljakow from 0VIX Protocol, Seraphim Czecker from Lido Finance will be taking the stage in a panel session moderated by L2Beat's Krzysztof Urbanski, sharing their insights on how to understand the role and impact of Layer 2s on the stablecoin ecosystem. The implications of fragmented liquidity on the stability and reliability of stablecoins will be examined, and finally, strategies to mitigate the impact of liquidity fragmentation on stablecoins will also be touched on.
Workshop: Rethinking Stablecoins from First Principles | July 15, 2023, 4PM — 4:30PM (local time)
If you've ever wanted to learn about stablecoin with Mantle, now's your chance! Listen online via livestream here.
Explore With Mantle at EthCC
At this mega four-day event, the Mantle team will be welcoming all event-goers, Mantle community members, developers and anyone looking to connect at the Mantle booth.
We'll be out there all four days at EthCC from July 17 to July 20, which will see the gathering of some of the best projects and leaders across the whole blockchain and web3 industry. Drop by the booth for a friendly chat!
For our developer friends, look out for Mantle developer relations team gigabrain Libevm at another one of his fun workshops to give you that added boost in building.
Booth: 3F, M Building, Salon MAUBERT room, R15
Talk: Master the Art of Slurping Yummy Data with a Single Query | July 20, 2023, 10:50AM — 11:05AM (local time)
Learn about efficient data retrieval and how you can populate all (non-historical) states of your frontend application in ONE RPC query, only with Libevm.
All Things Modularity at Modular Summit
As you may know by now, Mantle Network is a modular Ethereum layer 2, so we couldn't pass up on the chance to speak at Modular Summit, happening July 21 to July 22.
Everything you need to know about the positive-sum crypto ecosystem and how web3's most visionary builders think about the modular blockchain revolution, featuring some of the biggest names in the industry including Ethereum Foundation's Vitalik Buterin, Polygon's Sandeep Nailwal, Matter Lab's Alex Gluchowski and more.
Booth: Stay tuned, we'll update soon!
Talk: Built It Like Lego — The Modular Economy | July 21, 2023, 1:10PM — 1:30PM (local time)
Mantle's Head of Ecosystem Arjun Kalsy will be sharing how modularity allows blockchains to build new types of economies and dive into the different ways we can build economics into modular blockchains.
Jam With the Devs at ETHGlobal Paris
For devs who have signed up to participate in the ETHGlobal Paris Hackathon across four different categories, namely DeFi, NFT, Gaming and Content, we look forward to seeing all of you there from July 21 to July 23 to jam in building sessions and focus on creating their best build on Mantle Network.
Booth: Stay tuned, we'll update soon!
Talk: Master the Art of Slurping Yummy Data with a Single Query | Timing TBA!
If you missed out on Libevm's workshop during EthCC, this is your chance to attend the same workshop at ETHGlobal Paris.
✨ Special Mention: Sozu Haus Hacker House!
Sozu Haus is dropping the heat in Paris for yet another hacker house of super hackers, this time co-hosted with Mantle! The hacker cave is in a mansion near the Eiffel Tower, where these gigabrains will spend several days building, learning, sitting through workshops and having fun. Multiple days of building will culminate in a big demo day where hackers show off their building prowess in the form of their newest innovation on Mantle.
---
It's going to be jam-packed week for Mantle and we can't wait to meet our community in person real soon! For everyone else joining Mantle online, stay tuned to on our updates on the "Mantle in Paris" discord channel, and also on our Twitter and Telegram, where we will be sharing photos and videos all the way from the event venue, real-time.
---
Disclaimer:
Mantle Network is a layer-2 blockchain incubated by a decentralized autonomous organization that is not registered nor licenced in France with the French Autorité des Marchés Financiers and does not carry out any digital asset services as per defined under Article L. 54–10–2 of the French Monetary and Financial Code on French territory and is more generally not regulated in France or with French authorities. Mantle Network does not (and does not purport to) promote or market services or solicit clients in France within the meaning of Articles L. 341–1 et seq. of the French Monetary and Financial Code. Mantle Network's activities as part of the EthCC and related events are strictly limited to the presentation of technical matters relating to the functioning of its technology. This presentation is not a financial advice nor a recommendation to buy or sell any product or service.