Community Catch-Up With Bybit's Ben Zhou — AMA Recap
03/07/2312 min read

by Mantle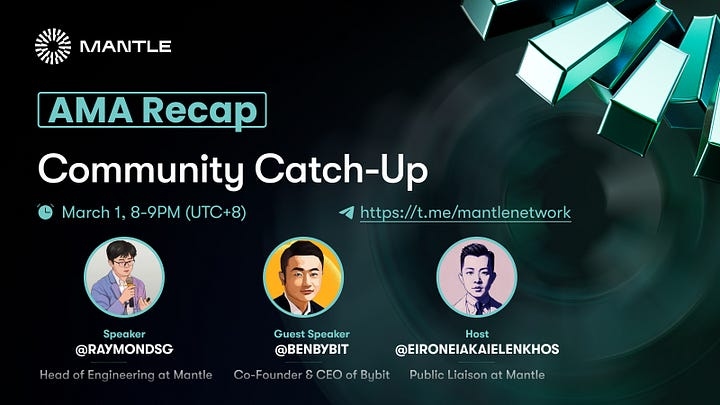 Last week, Mantle invited Bybit co-founder and CEO Ben Zhou back to the stage, this time to speak directly to the Chinese-language Mantle community on how Bybit is supporting and contributing to Mantle's growth. He is joined by Mantle's Head of Engineering Raymond Cheng, who jumped on all the technical development questions the community had during the session. The community catch-up was hosted by Mantle's Public Liaison Igneus Terrenus.
In the spotlight: progress on Mantle's current tech stack, the recently unveiled Mantle EcoFund, and how ecosystem partners such as Bybit are an integral part of Mantle's journey to accelerate global mass adoption of web3.
Check out a summary of interesting AMA soundbites here:
1. Growth in Layer 2s (L2s) will trigger the next bull cycle in the crypto market.
With a parade of new established players entering the L2 landscape and joining popular L2 solutions already existent in the market, the web3 space is certainly one to anticipate in the upcoming months. This backdrop sets the stage for Mantle, a modular Ethereum L2 network designed to deliver high performance on low fees for new innovations and applications.
Ethereum scaling solutions currently center around rollups, specifically optimistic rollups and zero-knowledge (ZK) rollups. If you look at the existing market, most L2s have integrated optimistic rollup technology — and so has Mantle in its initial testnet phase.
Scaling technology is also morphing; more and more projects, teams and builders are seeing merit with ZK rollups and pivoting to a zkEVM focus. In order for Mantle to drive change in the web3 race, diving into the ZK side of things is paramount.
2. Mantle has unique network features that existing L2s do not have, and continues to innovate even during its testnet phase to deliver better building foundations for the best web3 dApps.
From a technical perspective, Mantle is uniquely positioned amongst other alternatives due to its modular architecture — what this means is that Mantle's network comprises many different separate layers that are each responsible for one main function, all to increase the cost efficiency, speed and throughput of decentralized applications (dApps) that deploy on top of the chain.
It is open sourced and aligned with the principles of decentralization, evident in our goal to decentralize sequencers and ensure that the network is censorship resistant. All in all, it's a network that is open to, and inclusive of all builders and users.
We are able to offer much lower fees due to the integration of Mantle DA as powered by EigenDA technology, instead of using the more costly and less specialized Ethereum for data availability. At the same time, Mantle is able to provide Ethereum-grade security and utilizes Specular's fraud proofs to further fortify the network.
Most importantly, we're able to use $BIT for gas fees, and as a staking and ecosystem growth token, building greater value accrual for this token beyond its governance utility in BitDAO.
On top of all of these, the best part is that builders and developers can seamlessly and quickly make a transition to Mantle — the building process is already familiar to most of them. We've designed Mantle for top-notch user experience, substantially reducing the need for new trial and error when creating dApps.
3. Bybit has always been a big proponent of BitDAO's initiatives and the $BIT token, and now is the optimal time to be a part of the evolving L2 landscape with Mantle.
Speaking from a project owner's perspective, when you're looking for a chain to build your dApp on, a few factors are at play. Security is a major determining factor, but beyond that, it all boils down to:
Cost
On-ramp exchange support
On the first point of cost, it's self-explanatory. On one hand, BitDAO is backed by one of the biggest treasuries in the world, and network participants and community members can be sure of funding support provision in various ways. BitDAO also features one of the largest decentralized autonomous organization (DAO) ecosystems in the world, which brings projects knowledge, resource and infrastructure support as well.
It's evident that projects are more likely to choose a chain that'll provide them with full-spectrum support — what is most important for teams looking to make it big is to create their new projects and have their new token(s) listed on an exchange. That exchange will need to provide significant market depth and liquidity, a high level of trustworthiness and more to boost a project's go-to-market strategy.
Bybit is the perfect example — a crypto trading behemoth that has grown strong foundations in all crypto offering pillars, including web3. As an established trading platform that has partnered with Mantle, projects built on Mantle can get access to a myriad of marketing possibilities and strategies.
The game of L2s will be decided by how many dApps are active on a given L2 network. Mantle is aiming to be the go-to chain of choice, in part due to the existing ecosystem support that can back up new projects from the get-go.
The community can look forward to some big, exciting dApps on Mantle, to be revealed soon.
4. We're creating an ecosystem that automatically drives use cases and growth for $BIT and value accrual for $BIT holders.
The $BIT community has a right to vote on key decisions that impact BitDAO, and Mantle's addition to the BitDAO ecosystem is an invaluable opportunity to increase the use cases of $BIT beyond its governance function. This, combined with Mantle's ecosystem and technical advantages, will bring a great many benefits to $BIT holders in the long term.
5. Optimistic rollups and ZK rollups — Mantle is offering both solutions for testing.
A majority of L2s are built off optimistic rollups, but the zkEVM space has seen some serious developments recently, with multiple mainnet implementations going live for the first time. Considering overall industry growth, Mantle is considering exploring a zkEVM testnet in parallel to the current Mantle Optimistic network.
zkEVMs remain a relatively unexplored territory, and it would be interesting to be one of the frontrunners and uncover new building possibilities with zkEVMs. Within BitDAO's ecosystem, there is also already a zkDAO, an initiative introduced in collaboration with Matter Labs. The research and ecosystem teams at Mantle are working hard to dive deep into a zkEVM plan.
If the proposal is passed, developers get to stress test and find out how both rollup alternatives will perform for their various projects on Mantle. They'll then be able to choose the rollup they'll prefer for Mantle Mainnet — Mantle is committed to having the community be a part of the decision-making process in the formation of Mantle's future, and this is a critical part of that.
6. Plans to launch a Mantle EcoFund are well underway, and Mantle will take all necessary steps and precautions to ensure that the best, most reliable projects are supported.
Precautions in the form of checks, research and reviews are definitely part of the EcoFund distribution process, as with all support funds. Mantle is working on better supporting the best thinkers, builders, entrepreneurs and developers in the web3 space, on projects that are in different growth stages. And staying true to the promises of decentralization, the EcoFund proposes an independent Investment Committee (IC) to thoroughly assess all these projects coming in.
You can still provide feedback on how we can optimize the Mantle EcoFund structure while discussions are ongoing.
---
Mantle will soon be reaching an important pit-stop with the zkEVM Research and Mantle EcoFund proposals. We'd love to hear your thoughts, so join our community and drop your comments on any of Mantle's social media channels.
As we progress along Mantle's roadmap, check out our February recap.