Mantle Network Mainnet Alpha: Launch Highlights
07/17/2311 min read

by Mantle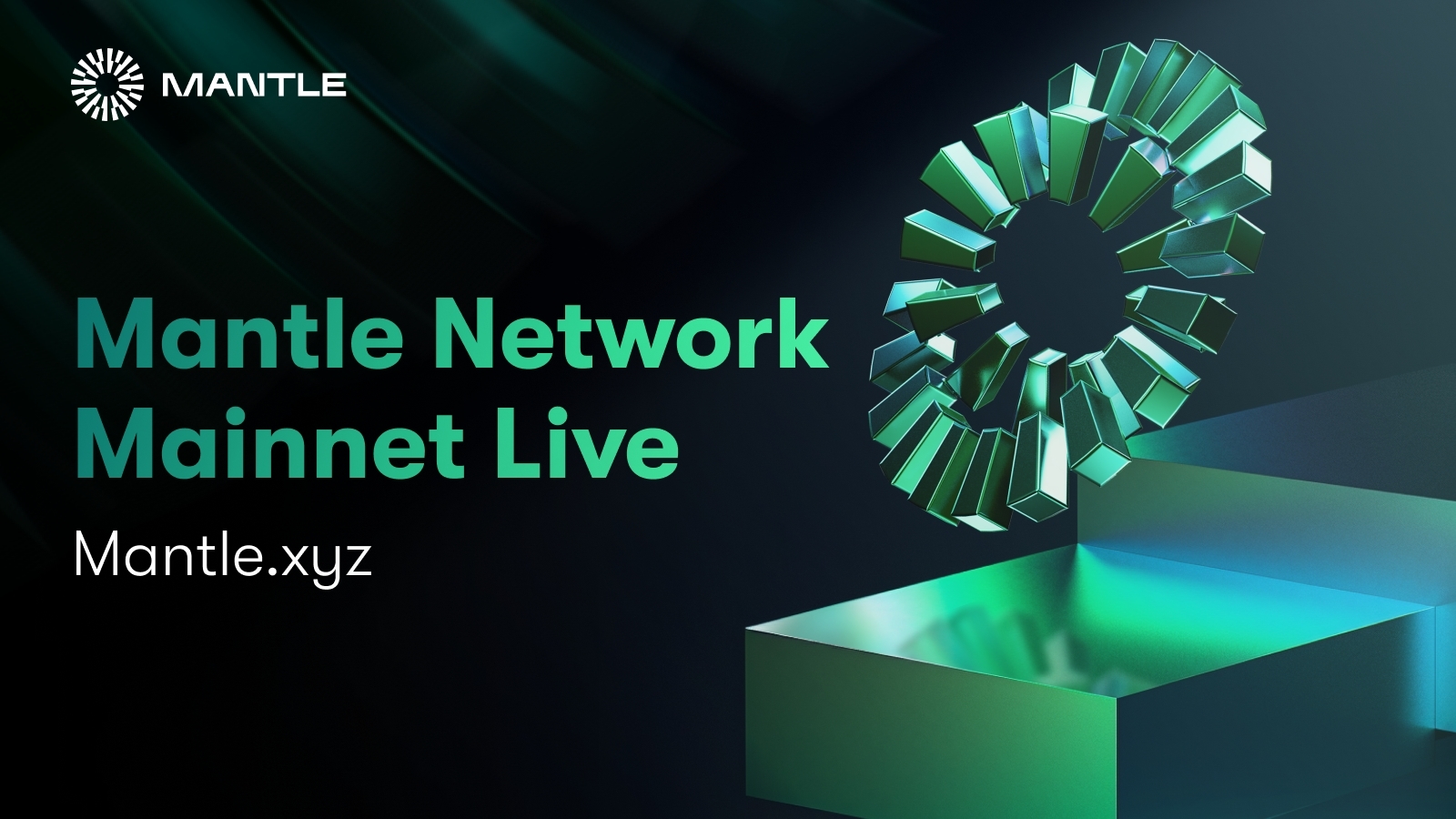 Mantle Network Testnet went live on Jan. 10, 2023, and now six months have gone by in a flash! The team has been hard at work, improving technology and growing the ecosystem, all of which has culminated in this moment — the Mantle Network Mainnet Alpha launch.
The mainnet alpha is now live, completing the bridge between builders looking to deploy innovative dApps and users looking to experience web3 to the fullest. Below is a summary of our biggest testnet milestones, and all you need to know as we charge ahead into the next stage with mainnet alpha.
Testnet Aced the Test
Mantle Network has been evaluated over a rigorous, six-month testnet period, during which the network processed 14 million+ on-chain transactions, saw 140,000+ smart contracts deployed, welcomed 48,000+ developers, connected to 690,000+ unique wallet addresses, and maintained a monthly active wallet address count of 157,000+. Mantle Network also saw huge support from the broader ecosystem with 80+ dApps deployed on our testnet, and several more deploying smart contracts to test out our network.

The testnet phase allowed us to demonstrate the stability and performance of our modular tech stack with progressive updates completed without any downtime. The network is now fully integrated along with data availability solution Mantle DA powered by EigenDA technology. The team also completed several security audits, whose recommendations were incorporated into our codebase. We will publish these reports in the weeks to come and also present details regarding our technology roadmap. For the latest updates on Mantle Network's tech stack, features and more, please check out our documentation.
A Developer-First Mindset
The developer community is at the heart of everything we do at Mantle. The Mantle Dev Rel team successfully executed 20+ hackathons, which saw the submission of 400+ projects on Mantle Network Testnet. At these events, Mantle hosted numerous sessions for hackers, where they are paired with the network's official infra providers and gained exposure to some of the best-in-class tooling available to developers. Furthermore, we also did several Twitter Spaces with the hackathon winners so that other budding developers can learn from their experience and become top hackers themselves.
The team also created blogs and videos to help explain blockchain development and Solidity concepts to the dev community. We will continue to put out more content to make EVM development easy and intuitive for all.
A Mantle Ecosystem initiative, Sozu Haus facilitated several hackerhouses and delivered supercharged building sessions for some of the biggest gigabrains in the web3 space. This initiative continues to be a beacon for top developers to congregate, exchange ideas and hack on the most pressing problems in the Ethereum space.
Ecosystem Building Levers: Grants Program & EcoFund
To help build out the ecosystem at Mantle, we have created several different levers to accelerate the development of projects:
Mantle Grants Program: The Mantle Grants Program is designed to support builders to deploy their dApps on Mantle Network. During the testnet period, we went live with our Grants Program to help the first cohort of builders. We have selected over 50 teams who will be deploying their dApps on the mainnet on the go-live date.

Mantle Ecosystem Fund: The Mantle EcoFund, with a catalyzed capital pool of $200M, is being put together to help further accelerate the growth of Mantle Ecosystem. The Mantle EcoFund will operate as a standard venture fund with matching incentives for Strategic Venture Partners. This proposal  was passed after the one-week voting period in July. More details can be found at MIP-24: Mantle EcoFund.
Staying True to Ethereum's Values


Mass Adoption via Tokenized Communities
The most valuable web3 protocols are the ones that have created the best product services and avenues for participation for their community. Through tokens, communities are able to coordinate between unrelated and distributed groups of people based on incentive alignment. The token also allows the protocol to be community-owned, where critical decisions are taken through community votes. Most importantly, tokens allow communities to be positive sum, where new synergies can be created when different web3 protocols, and thus different communities, work together versus against each other.
At Mantle, we envision a future of token-governed technologies where new products and communities are composable and positive sum. This creates powerful incentives for more users to be a part of the Mantle community and contribute towards governance, product development, and product adoption.
Building on Ethereum
Mantle Network is a technology stack for scaling Ethereum, and we strive to be EVM-compatible while doing so. Being EVM-compatible means all the contracts and tools that work on Ethereum also work on Mantle Network with minimal modifications. Users can experiment with exciting web3 apps, and developers can deploy smart contracts in an efficient, low-fee environment.

At its core, Mantle Network has been built with a modular architecture that combines an optimistic rollup protocol with an innovative data availability solution. This allows Mantle Network to inherit security from Ethereum and offer cheaper and more accessible data availability.
Critical Decisions Executed by Community Vote
All critical decisions related to Mantle Network are decided upon by community vote. Right from all the budgets related to Mantle Network, the structure and functioning of the EcoFund, actions related to the revised tokenomics, etc. are all actively discussed in the Mantle forum. All community feedback is taken into account, and modifications are made to upload proposals prior to execution.
Treasury Monitor
In possibly a first in the blockchain space, Mantle has created a public treasury monitor that allows the community to keep track of how various Mantle initiatives including Mantle Network are spending DAO resources.
Delegated Votes
To further decentralize the process of voting, Mantle Governance has instituted a delegation function that allows the users and the DAO to delegate voting power to ecosystem participants. This way we can reduce the concentration of votes over a period of time and create more powerful and impactful governance.
The community is at the heart of everything we do at Mantle, and we will continue to build more tooling and products to increase community participation, transparency and robust governance in the time to come.
Mantle Ecosystem Building Blueprint
Mantle Network possesses unique advantages that can not be replicated by any other ecosystem. We have a large pool of resources in Mantle Treasury, and we also have a strong partnership with top exchanges and institutions that can support Mantle product and application growth.
Our ecosystem building strategy focuses on supporting teams building natively on Mantle Network and driving users to their applications. The Mantle Ecosystem building playbook revolves around two main concepts:
Active Ecosystem Management

Blockchain ecosystems benefit when there is a high degree of composability in the system. Protocols need to be able to work together and build off one another in order to provide a greater user experience.
At Mantle, we want to follow a system of active ecosystem development, where we strive to stay connected to every dApp building on Mantle Network and actively guide them on how to succeed on the network. This would involve connecting dApps with potential partners, helping them figure out their roadmap and keeping them apprised with the latest developments in the network so that teams always know how to provide a better service and experience for their users and the greater Mantle community.
Creating a scalable model that can solve ecosystem management is a big challenge. We at Mantle think of this as a function of people, process and technology and are actively evolving methods which will allow us to solve this and offer unparalleled ecosystem support.
Building Native Bluechips

Mantle Network is blessed with unique advantages that is difficult to replicate by any other network. The network has a large pool of resources in the DAO to call upon for ecosystem development. Furthermore, it also has strong partnerships with top exchanges and institutions that can support Mantle product and application growth.
These partnerships give Mantle a unique edge when it comes to building native blue chip projects. At Mantle, we want to incentivize high quality teams that are looking to build the unicorns of tomorrow, and we have the tools to help them through their entire journey from launch to listing.
Mantle Journey
In Q3 we will introduce Mantle Journey, an open-access and fair incentive program designed to distribute rewards to users and applications. Mantle Journey aims to incentivize various user activities within Mantle Ecosystem and provide rewards based on these activities. Here is a sneak peek into some key details of the program:
Indexing: Mantle Journey will index key user activities, including Mantle Network transaction counts, time-weighted Total Value Locked (TVL), interactions with specific smart contracts, social actions, and governance actions.
Epoch Structure: The program will consist of multiple Epochs, each lasting several months. Each Epoch will have dynamic miles calculation rules and reward calculation rules.
Epoch Crossover: Epoch 1 will serve as a Discovery phase. Future Epochs may introduce more targeted quests, achievements, and larger reward pools. It is likely that points earned in Epoch 1 will carry over to future Epochs, allowing users to accumulate points and rewards over time.
Citizens of Mantle
The Citizens of Mantle NFT collection of modular dynamic NFTs is a new innovation brought forth by the Mantle team. This NFT will sync with Mantle Journey to provide rewards and other goodies to the most engaged users of the Mantle community.
Web3 as a whole suffers from being clunky and difficult to engage with for the average user. The Mantle team will continue to research and implement new ways to engage the community to make interactions with web3 technology feel more intuitive and human. Through these ecosystem programs, we also hope to drive users to the applications who have chosen to build on top of Mantle products.
Mantle LSD: the next Mantle Protocol Built on Ethereum
Mantle's on-chain treasury holds ~270,000 ETH. A forum discussion proposes to mobilize this resource through the next Mantle product: Mantle LSD. Key points from the proposal are as follows:
Mantle LSD and mntETH: We introduce Mantle LSD a liquid staking protocol deployed on Ethereum Mainnet, fully governed by Mantle. Users, including the Mantle Treasury, can deposit ETH and receive mntETH receipt tokens. Validation services are outsourced to external node operators.
Mantle Ecosystem Synergies: Mantle LSD aims to leverage product synergies with Mantle Network, including the adoption of mntETH on Mantle Network (an Ethereum L2) and partnerships with node operators and DeFi applications. It aims to be the preferred solution for the liquid staking of ETH from the Mantle Treasury and Mantle Ecosystem supporters, reducing deposit acquisition costs. Strategic synergies can be implemented through the Mantle Governance process.
Operational Advantages: Mantle LSD aims to provide a simple and secure architecture that strategically benefits the Mantle Ecosystem, and is a product primitive that third party applications can adopt and extend permissionlessly. It can leverage the existing capabilities of the Mantle Ecosystem, such as community, governance processes, brand, social presence, development, and growth capabilities.
---
The Road Ahead
The July 17 Mantle Network Mainnet Alpha launch is not the end, but the beginning of the journey. In the months to come, we will reveal more details regarding the technology roadmap and share details on our research. We will also keep the community updated with all the latest news on new project launches and partnerships, plus exciting campaigns and events looming on the horizon. Be the first to receive updates on Mantle by following us on our socials.