Citizens of Mantle NFT: Your Mantle Companion Has Arrived
07/13/234 min read

by Mantle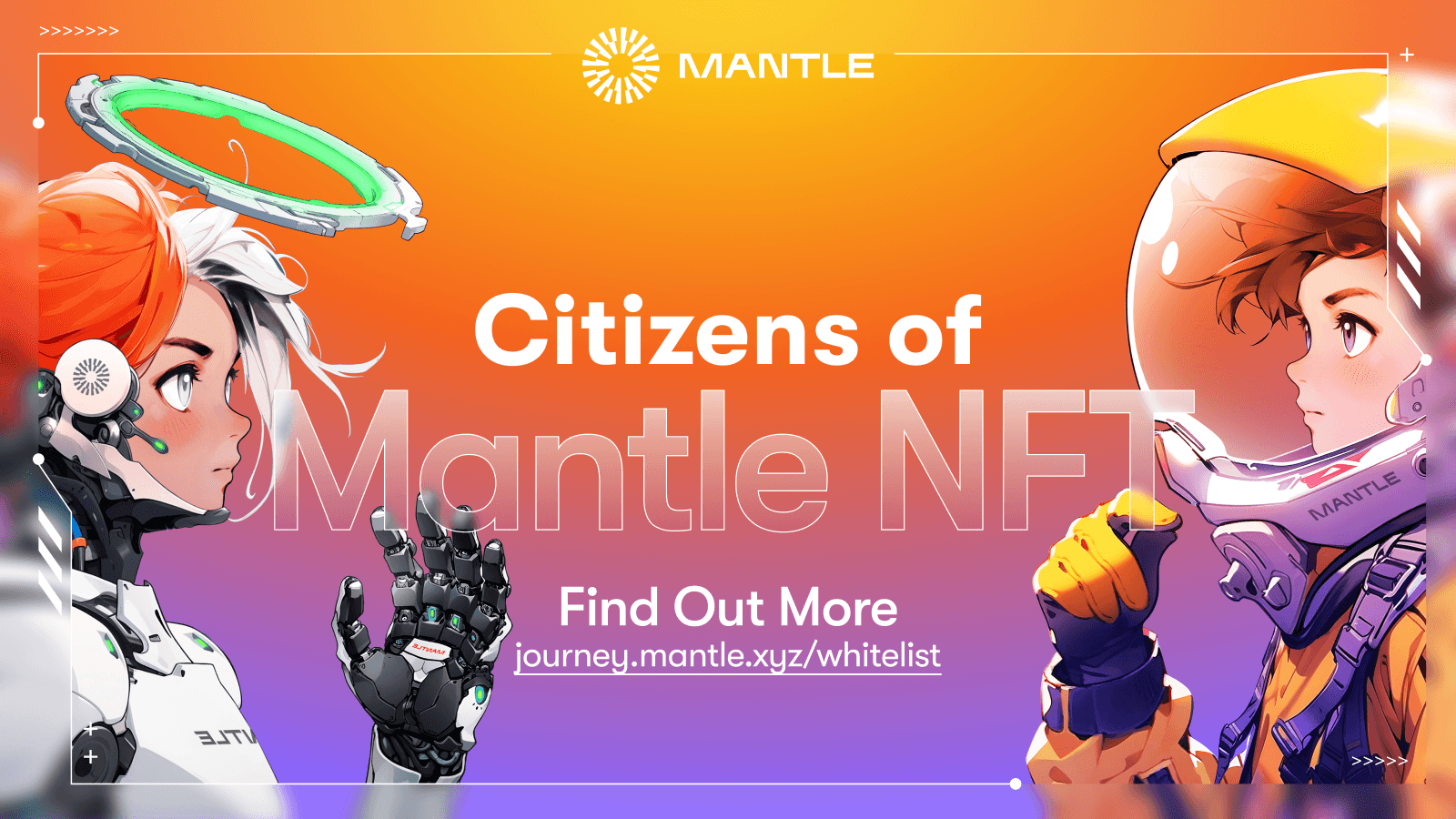 Are we ready to embark on this new journey, Citizens of Mantle?
Introducing the
Citizens of Mantle NFTs
, Mantle's inaugural NFT collection — conceptualized, created and brought to you in collaboration with internationally-renowned artist Chen Man. It is your unique NFT companion that will take you through the Mantle journey, and we're thrilled to announce that the whitelist for these NFTs is now open to some of our top and early contributors in this initial launch.
Getting a Citizens of Mantle NFT
The whitelist is now open with our very first batch of NFTs, reserved for some of Mantle's earliest and most active contributors. To be eligible for the whitelist, you must be an Active Unique Early Contributor (AUEC) of Mantle Ecosystem. We're verifying and evaluating each AUEC according to the following criteria:
The user has a single unique ERC-20 address that has passed our anti-sybil and anti-bot checks.

The user's transaction frequency on Mantle Network Testnet.

The user's interactions with Mantle Network Testnet, such as smart contract deployment, bridge, etc.

The user's contribution to the Mantle community.

The user's participation to Mantle community activities.
Click on "
Connect Wallet
" to find out if you've gotten a spot on the whitelist.
If not, you can
sign up for the waitlist
, and we'll evaluate your qualifications soon. Successful waitlisters will be notified via their emails.
There is only a short wait before you'll be able to mint your NFT — further announcements will be made for minting!
About the Citizens of Mantle NFT
The limited edition Citizens of Mantle NFT collection is your badge of honor and the virtual manifestation of yourself as a Mantle community member. The full collection in all its glory comprises numerous unique outfits, as well as unique headgears and hairstyles to suit your fancy. A basic set of the attributes mentioned above will be available and provided to whitelisted users in the initial phase, and there's more waiting to be unveiled in this collaborative collection that is poised to push the boundaries of artistic expression.
This is not an NFT just to leave in your collections. You can play, build, interact and participate across Mantle Ecosystem with your unique NFT, and as your steadfast companion while you traverse this new civilization, it is a record of your activity and accomplishments on Mantle. Based on your activities, you will be able to unlock exclusive benefits in the future. And as you evolve, your NFT evolves too, allowing you to earn unique and rare traits that others may not have.
What's Next
We're also soon approaching the full unveiling of our new home, Mantle Civilization. We thank the community for their support for Mantle thus far, and are working relentlessly to roll out more exciting products, features and activities for our community to participate in.
Learn more about the collection
here
.