Onboarding to Mantle Testnet: A Complete Guide
01/13/2311 min read

by Mantle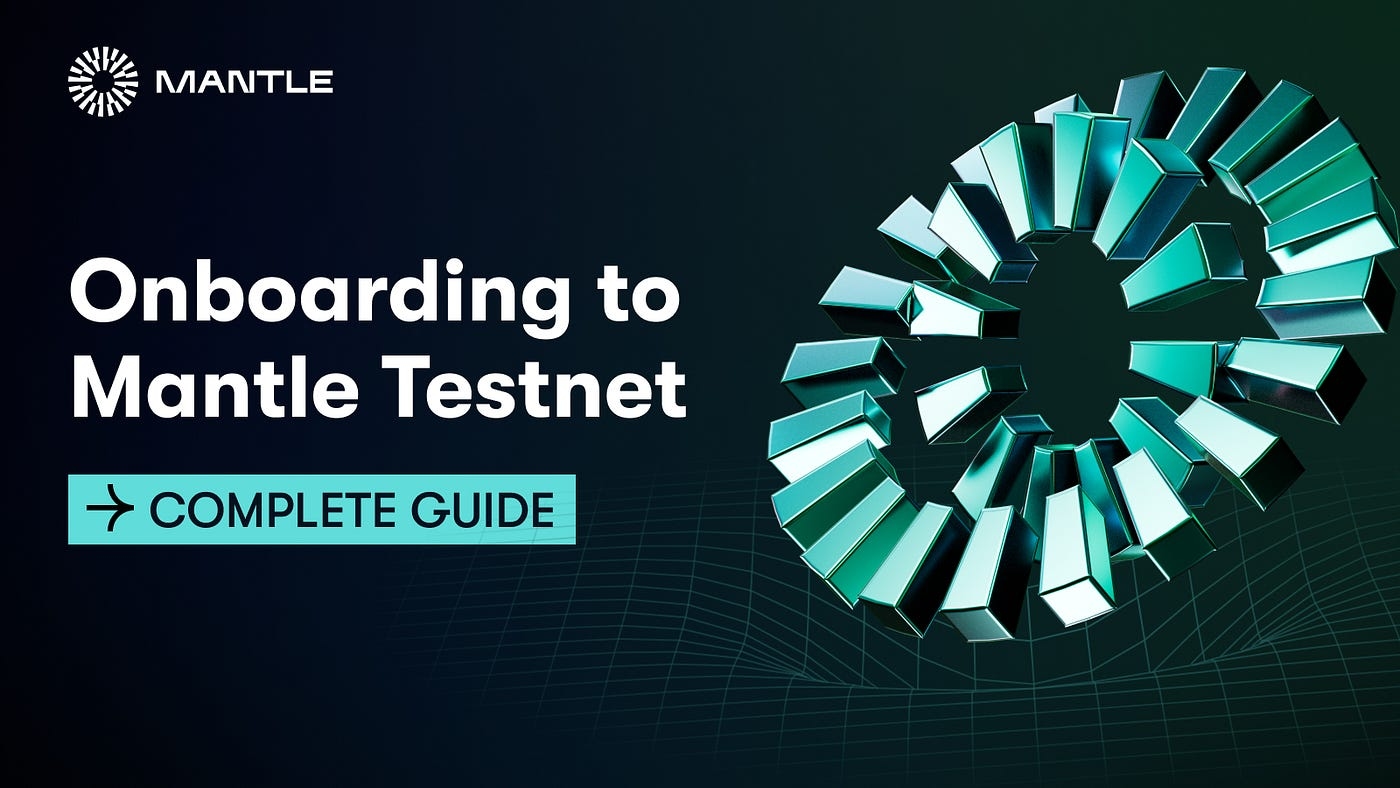 Introducing Mantle
If you haven't heard, Mantle is a recently announced modular layer 2 (L2) built on Ethereum, and we just launched our testnet!
That means, in only a few steps, you can start using Mantle today! This guide will walk you through the entire process.
Have a Web3 Wallet
First, make sure that you have a browser wallet. This tutorial will use the MetaMask browser wallet, but Mantle is also compatible with WalletConnect and Coinbase Wallet. If this is your first web3 wallet, we recommend downloading MetaMask here.
Add Mantle Testnet to Metamask
Mantle uses $BIT as its native token. That means before we bridge to Mantle, we'll want to tell MetaMask to recognize both the Mantle blockchain and the $BIT testnet token.
To add Mantle to MetaMask, you have two options:
1. The easiest option is to go to ChainList.org, check the box that says "Include Testnets", and search "Mantle".
2. When you see an option that says "Mantle Testnet", press Connect Wallet (or "Add to MetaMask" if connected), and a prompt will appear to add a network to MetaMask.
3. Press approve, and then confirm your switch to Mantle Testnet. Welcome, it's great to have you!
Add the $BIT Token on Goerli Network
Before you use Mantle's token faucet, we want to make sure MetaMask will display $BIT in its UI.
Open your MetaMask. Click where it says "Mantle Testnet" (or any other chain you are connected to) and switch to the Goerli Test Network.
If you haven't added Goerli before, click here to add Goerli using ChainList
2. Under the Assets heading, look to the very bottom and press "Import Tokens"
3. Paste the following address into Token contract address 0x5a94dc6cc85fda49d8e9a8b85dde8629025c42be and you should see MetaMask autofill the following information:
Approve the next two prompts (Add Custom Token, Import Token), and you're one step closer!
Acquiring Test $BIT
The Mantle Testnet Faucet helps users receive testnet $BIT to explore the network and experiment with dApps.
Using the faucet will require a small amount of Goerli ETH ($gETH) to cover the gas fee for minting $BIT. If you need Goerli ETH, you can use either the Paradigm or Alchemy faucets.
Visit https://faucet.testnet.mantle.xyz/, verify your humanity, and enter your Ethereum address. You can mint up to 1000 $BIT.
You should see the $BIT in your wallet shortly!
Bridging to Mantle
You are now ready to bridge your funds over to Mantle. You should know that your wallet addresses are 1:1 across both Mantle and Ethereum. So the address you've used so far will be waiting for you on Mantle.
1. Visit https://bridge.testnet.mantle.xyz/ to use the Mantle Bridge. Confirm once more that you are connected to Goerli (it will show in the top right of the Bridge interface).
2. Decide whether you will be bridging $BIT or $ETH. Input the transfer amount and press Deposit.
3. Mantle will ask to approve the transaction in-browser, followed by another confirmation in MetaMask.
4. Congratulations, your tokens are on their way to Mantle Testnet! You can view the transaction status using the Etherscan link provided by the UI.
See Your Tokens on Mantle
Now all that's left to do is see that your tokens have arrived safely in your Mantle address.
Open MetaMask and switch over to Mantle Testnet.
You should already see $BIT in your wallet. If you bridged $gETH, you will need to import Mantle's WETH contract (instructions below)
Click Import Tokens under the Assets heading in MetaMask.
Paste: 0xdEAddEaDdeadDEadDEADDEAddEADDEAddead1111 into the Token contract address field.
Approve the next two screens and you should see WETH in your MetaMask wallet on Mantle.
3. You can also confirm whether your funds have arrived by visiting your address on the Mantle Block Explorer
Paste your address into the search bar.
Click "Tokens" to view held tokens in your wallet.
What's Next?
You've successfully onboarded onto Mantle! You're now ready to experiment with the many dApps deploying to Mantle each day and start claiming Mantle quests. To stay up to date on our ecosystem, we recommend following us on our social channels. If you're a developer or builder, you can fill out this form to let us know what you're working on and how we can support you. This will make sure you're the first to hear about our grants and developer success programs.
Until next time 👋