Mantle Token Migration: Bybit AMA Recap
07/06/234 min read

by Mantle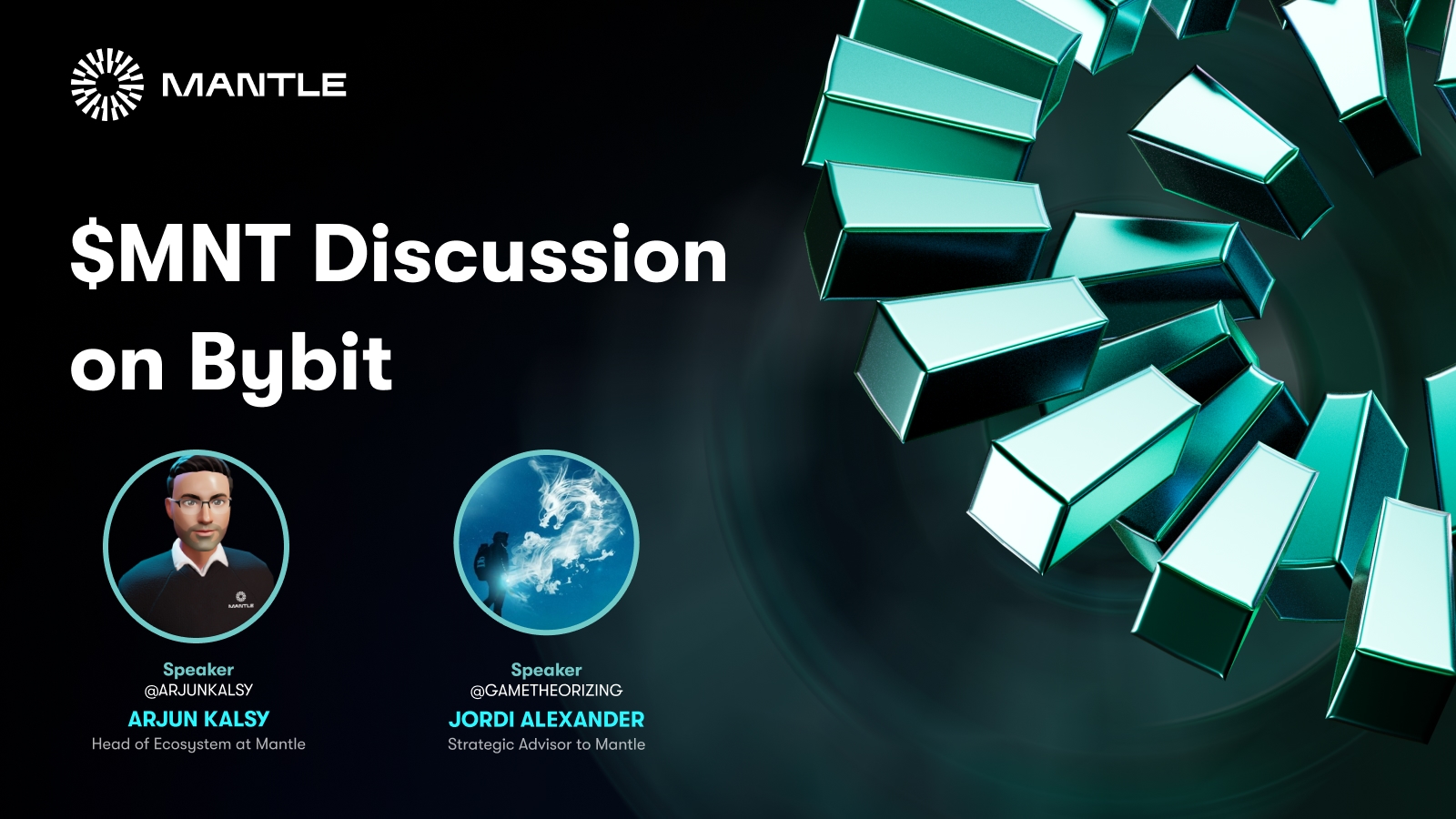 Mantle was a guest on ecosystem partner Bybit's recently hosted AMA on Twitter Spaces, dedicated to the meticulous breakdown of Mantle Network, the $MNT token migration, and any Mantle questions that the Bybit community had. Joined by Arjun Kalsy, head of ecosystem at Mantle, and Jordi Alexander, strategic advisor to Mantle, it was a fruitful discussion, covering various facets of token migration and more.
Here's a list of points you might have missed from the AMA.
Mantle Network Explained & Its Differentiators
Mantle Network is a forward-thinking Layer 2 solution for Ethereum, integrating innovative technological developments like Mantle DA as powered by EigenDA technology for data availability, thus adopting a modular architecture. Mantle's not only looking to develop the best version of existing solutions, but also to create new paradigms, with the key focus being on modularity.
Mantle has a uniquely advantageous ecosystem strategy. The network has the backing of Mantle Governance (previously BitDAO) — one of the largest DAOs in the entire space. Furthermore, Mantle is in close association with Bybit as well, which will allow high-quality projects to list on the exchange. This allows Mantle to take developers from 0 to 100, all within one ecosystem, by virtue of grants, investments, and eventually token listing. This combination of best-in-class technology and unparalleled ecosystem support is unreplicable in the blockchain space, providing Mantle with a distinct competitive edge.
Enabling Developers
For developers, Mantle provides comprehensive support, including grants to cover development costs for early-stage projects. An ecosystem fund with a catalyzed capital pool of $200 million, if the community votes in favor of it, will be established to fund high-growth projects. Mantle offers a familiar environment for developers, as the base chain is built on top of the OP stack and is EVM-compatible. The same developer tools and APIs port over easily from Ethereum and other EVM chains, and work seamlessly out of the box. To top it off, comprehensive developer docs and resources have been produced to help first-time developers.
Upcoming Mainnet Release
The testnet phase was crucial as the team was experimenting and studying several technologies such as fraud proofs, zero-knowledge (ZK) rollups, modularity, and more. This allowed the team to push frequent updates to the chain over the duration of the testnet, ensuring we bring the best product to market. As we finalize working with various auditors to make sure everything's working as intended, we're confident of a July mainnet launch. The idea is to launch the chain in a phased manner. With the innovations and the sheer amount of liquidity that Mantle can attract, security has to be the utmost priority.
Why $MNT & Use Cases
The DAO has chosen to go towards a product direction rather than an investment direction, and $MNT is the representation of that. Furthermore, from a technical perspective, as we're building a smart contracts platform, having a native token with advanced functionalities is ideal.
With $BIT, the primary use case was governance, but with the upcoming launch of Mantle, we'll greatly expand on the use cases of the token. The token will continue to be used for governance, it'll also be used as the gas token on the Mantle chain, and finally, users will also be able to stake $MNT and help with the network's data availability needs by interacting with Mantle DA as powered by EigenDA technology. 
On Bybit & Mantle Network's Relationship
There's a close relationship between both sides, and one of the main benefits is support on Bybit for tokens that are launched on Mantle Network. It gives people a centralized point of access and a place to do things like kickstarter campaigns for project tokens. That type of distribution is something that can attract high quality teams to build exciting new DeFi, gaming, and NFT projects on Mantle. 
Bybit is also one of the approved centralized exchanges that will be carrying out $BIT to $MNT conversion. For more information, head on to Bybit's website.
The Mantle Roadmap & Future Outlook
The most exciting part at the moment is the building out of the ecosystem. Mantle's LSD mntETH will have a thriving LSDfi ecosystem spawn around it. Interesting developments are happening in the decentralized exchange space, borrowing & lending sector, and NFT market. We've also developed an index that will help track and reward users based on their on-chain activities (coming soon!).
In Summary
Overall, the idea behind the token migration is to reflect the expanded use cases for $MNT as the native token for Mantle Network. While it
will still retain governance functionality, $MNT is also going to be used as the network's gas token, and in Mantle DA's staking model to
secure data availability services.
Bybit and Mantle continue to have a close relationship, and the exchange will serve as a centralized venue for tokens of various dApps operating on Mantle Network. Mantle features an attractive ecosystem for builders, both through ecosystem resources such as Bybit's support as an exchange, and financial backing for ecosystem growth programs. 
---
Looking ahead to the soon-approaching mainnet launch, be sure to keep your eyes peeled for exciting events and announcements coming your way.