Mantle in Singapore: Get Ready for Token2049 and Ethereum Singapore!
09/08/233 min read

by Mantle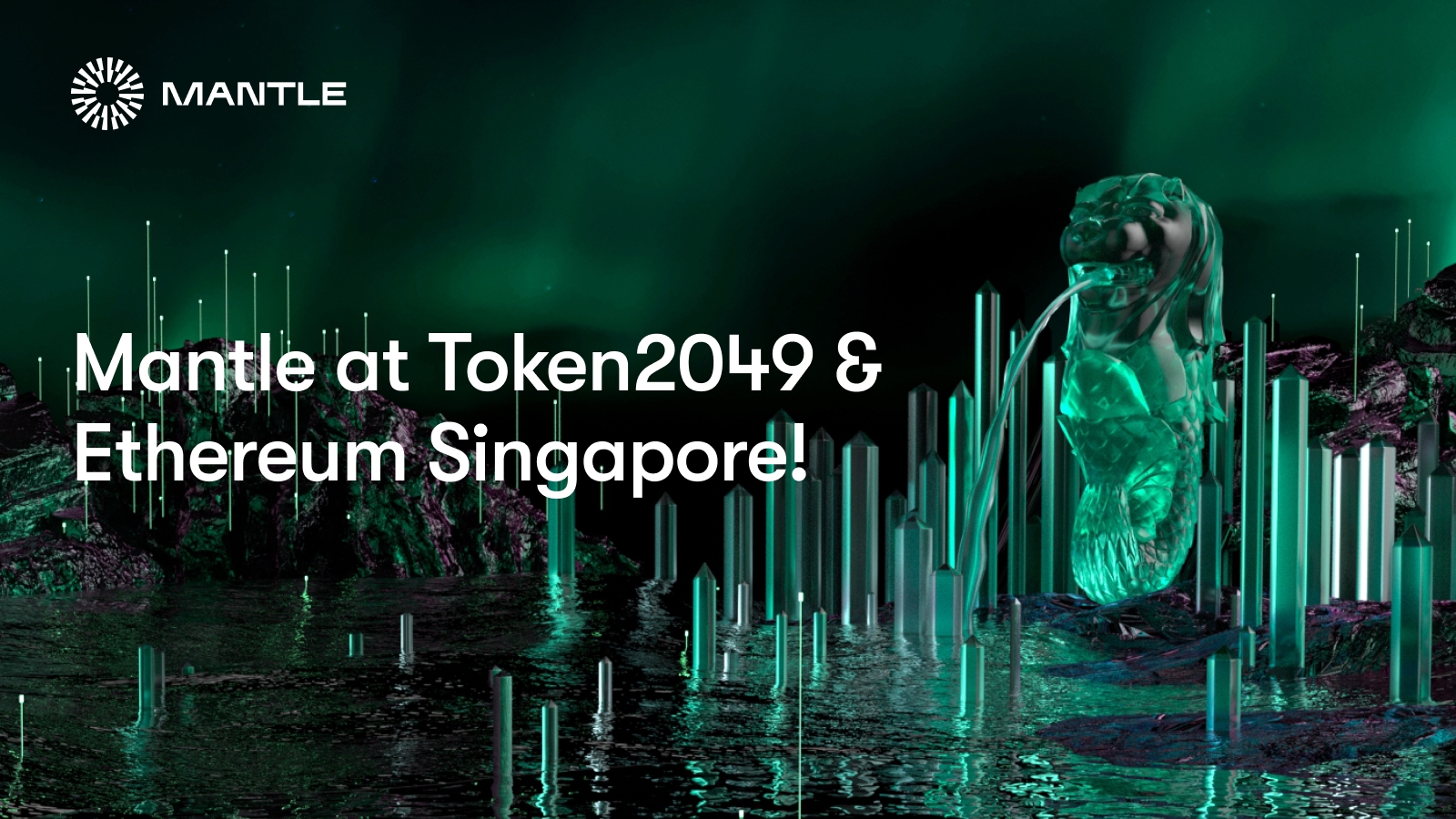 Following major outings at ETHDenver and EthCC, we now head to Ethereum Singapore and Token2049, as Mantle gears up to meet blockchain enthusiasts, crypto fans, innovative projects and their teams, and even some of Mantle Ecosystem's allies and collaborators in the sunny island city of Singapore.
From Sept. 10, 2023 to Sept. 12, 2023, you'll be able to catch Mantle mingling with builders at Ethereum Singapore. And immediately following that until Sept. 14, you'll definitely want to stop by the Mantle Megabooth at Token2049, complete with a fun arcade.
*All timings highlighted below are local time (GMT+8).
Mantle is the Title Sponsor of Ethereum Singapore, happening at one of the most iconic spots in the city — National Gallery Singapore! Hackers will showcase their building chops during a three-day hackathon.
For those who won't be building, the Ethereum Singapore Conference will be where multiple talks and workshops will be held — several familiar members of the team including Chief Alchemist Jordi Alexander, Senior Developer AFK and Dev Rel Specialist Libevm will be on the main stage to share their insights. More details to follow!
And now for the super event held at Marina Bay Sands — Mantle is going all out at Token2049 as one of its title sponsors with our largest booth to date, plus an exciting Cryptocade created with our ecosystem friends at Yeeha Games, featuring several games you know and love for all to experience.
Mantle Megabooth: P30, P40, P41, P42 on Level 5
There's plenty of space at the Mantle Megabooth, complete with a help desk for casual chats, dedicated area for more in-depth discussions, a Mantle standee where you can take all your I-was-here photos, and, best yet, a swag display rack.
Swags include shirts, exclusive stickers, our community-created meme hand fans to combat the humid weather, and much more!
You'll see both familiar and fresh faces from Mantle, and we're looking forward to having conversations with each and every one of you.
You can find Mantle on-stage in two panels on Sept. 13, 2023!
(1) DeFi's Importance in an Increasingly Centralized World (10:15AM, OKX Stage): Jordi will be joining other speakers from MakerDAO, Synthetix, Uniswap Labs, Primitive Ventures and Dragonfly
(2) L2/L3 Narrative & Value Capture (9:55AM, NEXPace Stage): Catch Mantle's Ecosystem Research Lead Derek Lim as he shares his perspective on layer 2s (L2s) and more
Exclusive IRL Event: #VibeWithMantle & Win Prizes!
For all Mantle booth visitors, you can stand a chance to win some exclusive prizes, including a team-favorite, sturdy Bellroy Mantle backpack, whitelist slots for the Citizens of Mantle NFT from our inaugural NFT collection, and even Mantle Journey Miles from our newly-released ecosystem tracking and indexer program.
All you need to do is come to the booth, take a selfie that includes a Mantle logo (plenty are printed and visible at the booth), and post it on X/Twitter with the hashtag #VibeWithMantle!
Get more details on this event at the booth, or look out for the X/Twitter announcement.
Serving on Side Events
[Full] Mantle Ecosystem Mixer: Sponsored and co-hosted by MEXC Ventures, Ondo, A41, Range Protocol, P2P, Valent and TON, our ecosystem mixer on Sept. 13 has been filled! Thank you to everyone who registered and we look forward to seeing you there.

[Open] Mantle x Selini Poker Night: Happening on Sept. 14 at 7PM, Mantle is co-organizing a thrilling poker night with Selini Capital. It's your chance to sit at the table for a night of competitive tournament poker and rub elbows with top industry VIPs, and even some world-class poker players. Register now.

Agnos @ Token2049 Hosted By iZUMi: Mantle's DeFi Growth Lead Gabriel Foo is scheduled to speak on a panel for the topic of Liquid Staking, happening Sept. 14 at 4PM