Mantle Journey Launch — AMA Recap
09/05/238 min read

by Mantle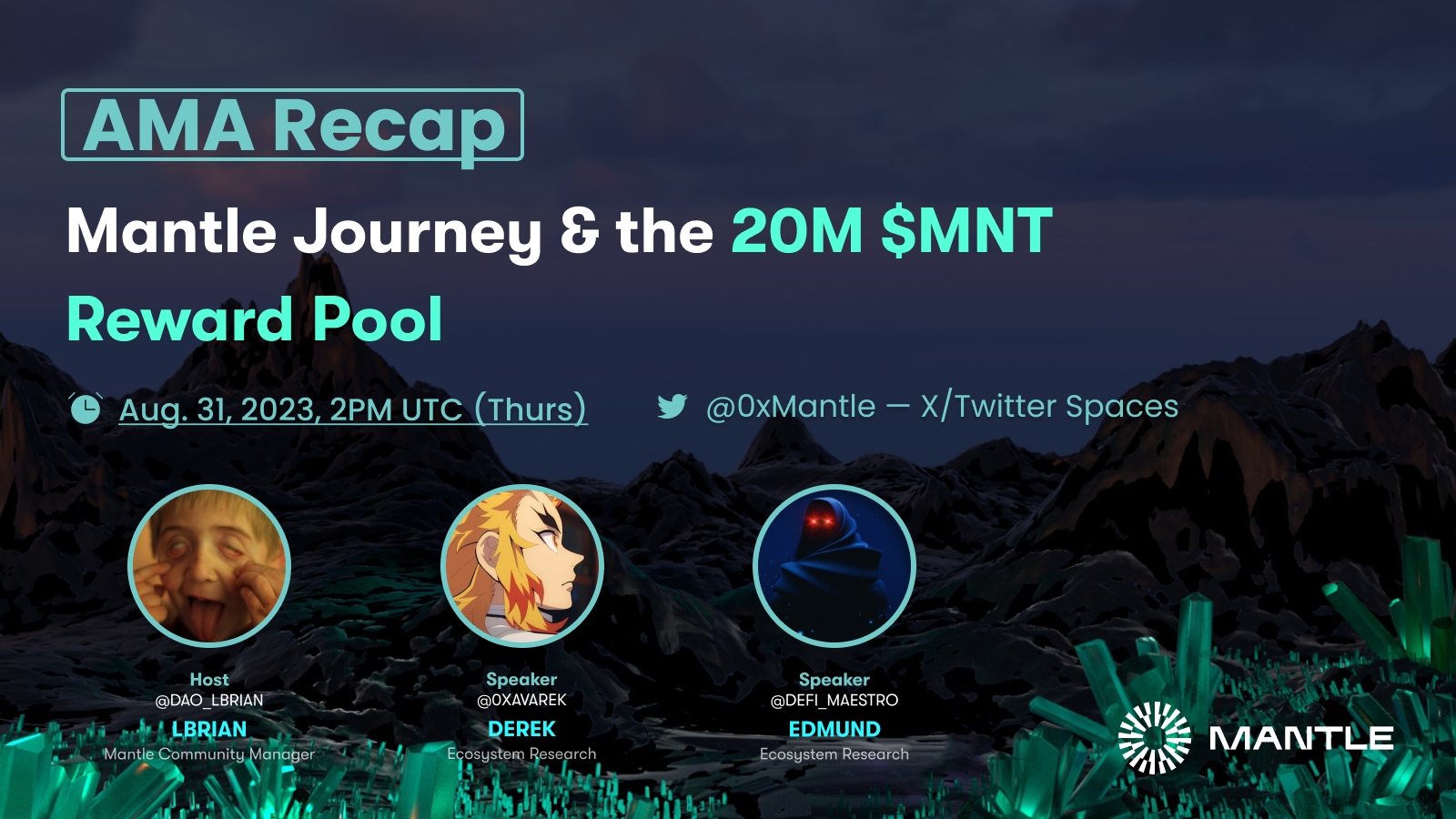 Recently, the Mantle team hosted an X/Twitter Spaces to celebrate the launch of Mantle Journey (MJ). During the value-packed session, we touched base on the 20M $MNT reward pool, MJ benefits, conducted a Citizens of Mantle WL giveaway, and much more. This recap article will summarize the primary takeaways and bring our community up to speed with all things Mantle Journey. The panel consisted of some heavy hitters, including our Community Manager, LBrian (@dao_lbrian, denoted L below), and Ecosystem Researchers, Derek (@0xavarek, D) and Edmund (@Defi_Maestro, E).
*Some sentences have been edited for clarity and brevity.
Mantle Introduction
D: Mantle is an Ethereum L2 network with a three-layer distinctive modular structure. Ethereum mainnet handles the settlement and consensus, Mantle DA — powered by EigenDA technology, takes care of data availability, and Mantle itself serves as the execution layer. At Mantle, we're trying to solve two major pain points: decentralizing the sequencer and modularity. Mainnet went live a little over a month ago. Mantle Journey is a significant milestone that we've achieved.
L: Mantle was birthed out of BitDAO; however, Mantle has essentially absorbed BitDAO, and now we have Mantle Governance. During this rebranding process, BITtransitionedintoMNT, and the BitDAO treasury was converted into one of the largest L2 treasuries, i.e., Mantle Treasury.
Mantle Journey TL;DR
E: MJ is an on-chain aggregator that allows users and protocols to submit on-chain transactions and earn points in return. The idea is to gamify the user experience when interacting with Mantle. It'll help to gauge who's the most active on Mantle. The current MJ phase is the Alpha stage, whereby we've launched the MVP, and there's a lot more coming in the future. A new feature we'll be rolling out soon is Protocol Quests, which will allow users to learn about specific protocols, and their actions will be incentivized. Season Alpha is the ecosystem incentives' first season and MJ's first season.
We're looking at Season Alpha as a testbed to understand how incentives could work and how to design incentives. The idea is to make it a fun experience for the users when they interact with Mantle. The total reward pool for Season Alpha will be 20M $MNT. Subsequent seasons will boast similar numbers. Some other upcoming features are the leaderboard and quests. Essentially, it's a way to enable users to have some fun on-chain and also earn some rewards in return.
Mantle Journey Origin
E: MJ was born out of one of the several brainstorming sessions I had with Derek. These were the early days of Mantle, and we were evaluating other L1/L2 ecosystems to understand what works and what doesn't. We concluded that a fun and community element was missing from most blockchain ecosystems, and it was a requirement to perform well. Thus, we wanted to build something that is fun for the users while also helping the ecosystem grow. We took inspiration from the Ethereum Degen Score, which ranks users based on their on-chain activities and provides a degen score that can be shared on social media. From there, we brainstormed how to improve and build on top of such a system by engaging the various active protocols and users on Mantle. We wanted to help protocols form a closer bond with their users and community. This is how we ended up designing the MJ platform.
D: As the discussions went along with MJ, there were certain things that were powerful beyond Mantle itself. Protocols in our industry struggle with product-market fit (PMF). We have many people trying to solve problems that don't exist, and it's difficult to find true PMF in this space. Thus, having an ecosystem-level indexer or a social ID layer where users get social attestations together with on-chain index data is very powerful. This can help answer how to fine-tune protocols and run various user campaigns to achieve PMF. The road to mass adoption is more protocols finding PMF. Our goal is to harness the various unique selling points of the blockchain space and further the cause.
Mantle Journey Activities & Miles Accrual
E: For accrual of MJ Miles, most of the generic on-chain transactions that users do will count towards it. For example, conducting a simple swap on a DEX, providing liquidity in a liquidity pool, and claiming rewards, will all accrue MJ Miles. MJ Miles will accumulate throughout the entire season. At the end and during the season, users will be able to check where they stand vs. other users based on the leaderboard standings. This will help calculate a rough estimate of rewards distributed as compared to other ecosystem participants.
D: On the MJ website, we're incredibly transparent about the various ways of earning MJ Miles. Executing transactions on Mantle Network, bridging funds, holding $MNT, participating in governance, and completing social events are all ways of accruing MJ Miles. Over and above, there are certain other interactions that we haven't specified.
Season Alpha Verified Protocols
E: Currently, there are two protocols that are verified: AGNI and FusionX. Users who interact with verified protocols will earn more points or have bonus miles attributed to their actions. These verified platforms are platforms that have submitted their subgraphs to us to integrate within the journey sub-platform. There will be more protocols added to this verified list in the future.
Rewards Mechanism
D: We can't reveal the granular, specific kinds of weights that are used to reward activity, but I will say that this will be as fair of a process as possible. We will introduce something called a "seasonal cap", which will ensure that this is not only for users who have a lot of MNTtokens.WearenotonlylookingatusersorprotocolsthroughTVLandhowmuchMNT you hold; it will be a whole gamut of other actions and interactions that are rewarded, MJ Miles.
E: Just to add to that, while yes, holding MNTtokensdoesgiveyouanadvantagebecausethere′soneMantleJourneymileper500MNT tokens that you hold, but then you also receive additional amounts for doing transactions with this same MNTtoken.So,ifyouhaveMNT tokens and use this $MNT to transact, you will get both the Mantle tokens score and the transaction score.
But we really want this activity from users and to enjoy the experience on Mantle. So we are not just looking for holders just to hold their assets on chain and not do anything with it. We want them to have fun, interact with protocols in our ecosystem, explore our ecosystem, and also to put their funds to good use: get yield from yield sources, interact with exchanges, and maybe participate in altcoins.
The TL;DR is that holding MNTisadvantageous,butit′sevenmoreadvantageousifyouuseMNT all over Mantle Ecosystem.
MJ Miles Explained
E: Season Alpha comes with a 20M MNTrewardpool.AsusersparticipateinMantleJourneyandearnmiles,thesemileswillbeusedtodeterminethedistributionoftheMNT reward pool. Miles will also be able to be used for Mantle NFT upgrades.
D: The Citizen of Mantle NFTs will also provide exclusive rewards and benefits within Mantle Ecosystem. Of course, we can't specify that once again, but this is something that we can tell you that you will have exclusive rewards and perks that you can enjoy and, yes, they will be tradable.
Mantle Testnet MJ Miles
Yes, on the website, users can claim MJ Mile based on their testnet activity. An important note is that only specific actions reward users the full 500 MJ Miles amount. Testnet activity was tracked based on cumulative weekly transactions, smart contracts created, bridging, and voting on Snapshot. You can find the full breakdown on our website.
Lucky Hash & New CoM Whitelist
D: The 500 $MNT lucky hash reward is for all users who minted the SBT during the event period. The Mantle team will be picking a number 0 through 9, and at the end of the event, the first 5,000 users whose SBT minting transaction hash ends with the random number picked will each receive 100 MNT.
The Citizens of Mantle NFT whitelist slots are only reserved for explorers who satisfy two requirements:
You are one of the first 20,000 users to sign up for the MJ SBT whitelist
You joined the whitelist from our first round of the CoM NFT release roughly a month ago
Expectations From dApps
E: Overall, a lot of protocols in the DeFi sector especially are very excited because they have been really waiting for such an opportunity that will bring the community closer together in Mantle Ecosystem and encourage the users to participate in their platforms. Users can expect platforms to provide quests for MJ.
Many of the protocols are designing various campaigns like training competitions, gated IDO launches, and many more ideas that help encourage interaction and engagement on the protocols.
To follow along with our entire ecosystem and keep track of the different projects that are building, we have them all listed on our website, as well as you can follow our ecosystem X/Twitter page.
Season Alpha Timeline
Season Alpha is a bit of a "test" season like we mentioned, so we don't have an exact set date at the moment. But we will be sure to be highly communicative in the timing of the ending of Season Alpha, and what is to come next, so do keep a lookout on that and participate actively in our community channels.
Conclusion
As mentioned, building an ID stack over an entire ecosystem will not be easy; we acknowledge that humbly. There will be bumps along the road, and we think the only way that we can push this forward in a way that will benefit both Mantle and the web3 space, in general, is if we have the help and support of the community.
We are open to being collaborative, taking feedback from the community, and moving through this exciting process together.
If you have specific questions about miles or about the rewards and incentives, including the 500,000 MNT,the20,000CitizensofMantlewhitelistspotsorthebroader20millionMNT seasonal rewards from Season Alpha, you can find a ton of details about those things here on our blog or the FAQ on the MJ homepage.