July 2023 Recap: Mainnet Launch, Event Roundups & More!
08/01/234 min read

by Mantle
Ecosystem
Mantle
Roundups
Web3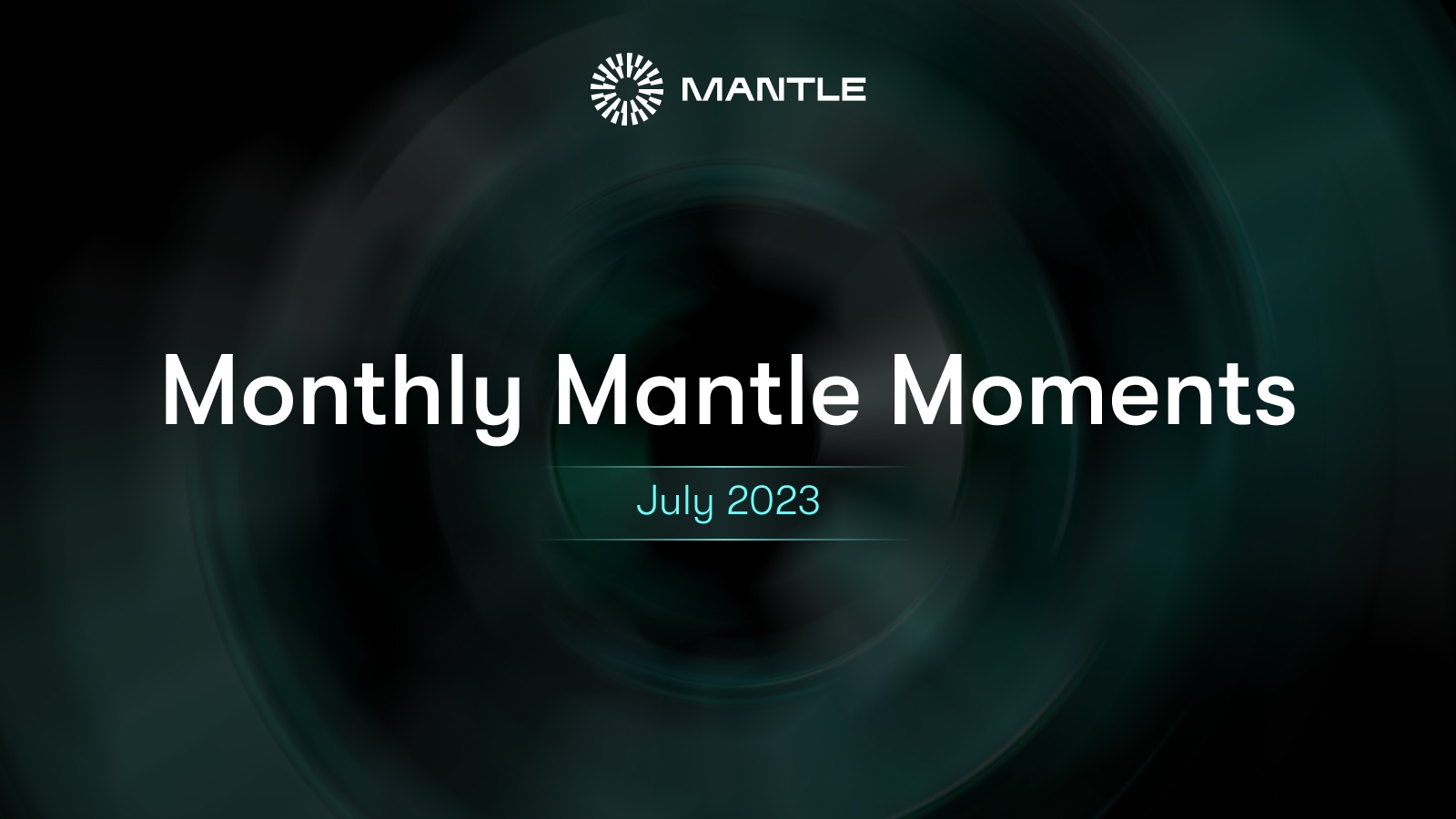 July has been a month of colossal achievements for Mantle, especially with the highly-anticipated Mantle Network Mainnet Alpha launch on July 17, 2023. We celebrated the launch with our ecosystem and community in various ways, and the start of the mainnet marks a new chapter for Mantle. Here's a summary of all our key highlights in the past four weeks.
The Launch
July 17, 2023 is a date that Mantle will remember for years to come — Mantle Network Mainnet is finally live!
As announcements went off on our official channels, part of the Mantle team were on the ground in Paris at various blockchain events to promote and amplify the launch IRL to event-goers and community members who dropped by our multiple booths.
From EthCC, Stable Summit, ETHGlobal Paris to Sozu Haus Paris, Modular Summit and Mantle's very own exclusive launch event, the team spared no efforts to share the good news with developers and users who were new to Mantle and Mantle Network. At Sozu Haus Paris and ETHGlobal Paris in particular, hackathon participants showed off their building prowess with some of the first innovations on mainnet since it was launched, all of which were presented to the team in the same week.
Mantle's Head of Ecosystem Arjun Kalsy and Chief Alchemist Jordi Alexander jumped on an AMA in the same week to address community questions over our current plans and future roadmap.
We also met up with plenty of partners in Mantle Ecosystem, taking discussions and plans for further collaboration to the next level. There are lots more exciting things to come with Mantle Network, so stay on the edge of your seats as we get new announcements ready.
Citizens of Mantle NFT
Accompanying the launch was Mantle's inaugural NFT collection, Citizens of Mantle, announced only a few days before mainnet was launched. This NFT was created to be a user's companion as they journeyed through Mantle Ecosystem, and would serve as an immutable record of their activity and accomplishments on Mantle.
Our first whitelist round for an initial, limited batch of NFTs went to the top contributors on Mantle Network thus far, and our waitlist is currently oversubscribed at more than 130,000 applications. More announcements incoming on the next round of NFT releases.
Ecosystem Updates
In the two weeks since mainnet was launched, the ecosystem has grown by another 23 collaborators, and 59 decentralized applications (dApps) are currently live on mainnet.
Last week, we hosted an AMA inviting Sreeram Kannan from EigenLayer, Marc from Pyth Network, Max from LayerZero and Aniket from Biconomy in an all-star ecosystem panel as well, resulting in a fruitful and interactive discussion between the speakers.
Zooming into Mantle Ecosystem initiatives, we were stoked to see:
Sozu Haus host an extremely successful hacker house in Paris with some of the best builders across the industry

HyperPlay organize an amazing web3 gaming LAN party that saw approximately 90 gamers turn up, sit in the same space and gamed their hearts out with the community

EduDAO empowering their students at the event and hosting a friendly tournament, also at EthCC
Mantle EcoFund Successfully Passed
Lastly, the Mantle EcoFund proposal (MIP-24) regarding a catalyzed capital pool of $200 million to be deployed within Mantle Ecosystem over the next three years through the collaborative efforts of the Mantle EcoFund and Strategic Venture Partners, was passed on July 15, 2023. As of the end of July, Mantle has received more than 100 applications, and will share more details in the coming weeks.
A new proposal is now up on Snapshot for voting. $MNT holders can now vote on MIP-25, which covers a Mantle Economics Committee, and ETH staking strategies, all to enable efficient and informed decision-making, facilitate commercial negotiations, and maintain strong checks and balances among existing Mantle entities.
Important Resources
With the many changes and developments being announced, it might be a tad challenging to keep up with it all, so here are all the new resources you need to get started.
Head over to our Discord channel if you have a question that can't be answered by the resources above, and we'll be right with you to get you through Mantle Network's mainnet.