Building on Mantle: Conversations With Hackathon Teams
05/03/2310 min read

by Mantle
AMA
Developers
Ecosystem
Partners
Web3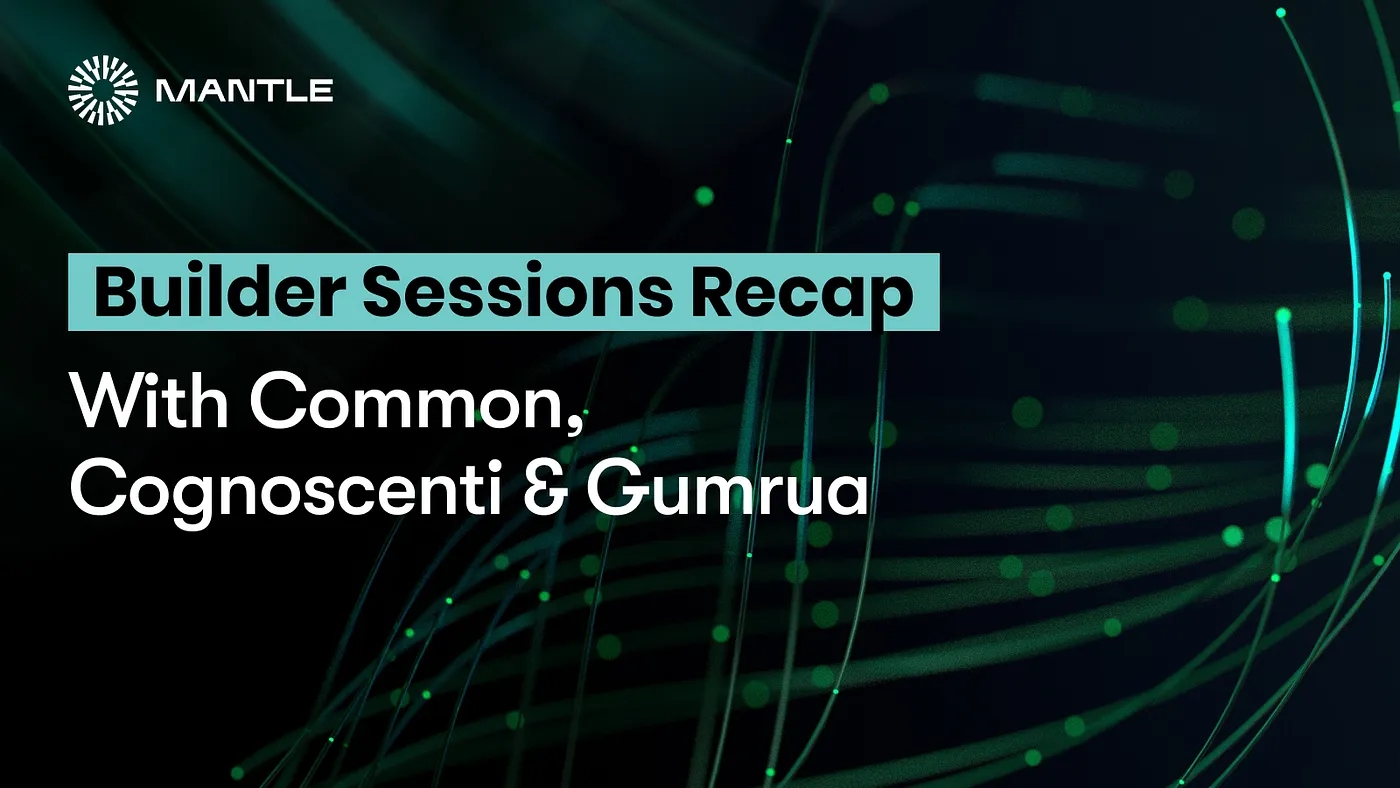 One of Mantle's goals is to help foster the development of new projects in the web3 space. Whether through funding grants programs, sponsoring hackathons, or putting on educational events, we want to help builders bring innovative and impactful projects to life on this high-performance, modular Ethereum layer-2 network.
Recently we held a series of Twitter Spaces with three teams that emerged from various Mantle hackathons to discuss their experiences and what they are building. Here's a roundup of our in-depth builder sessions with the super hackers at Common, Cognoscenti, and Gumrua.
Common
Putting on ecosystem development events often involves partnering up with like-minded organizations, and recently Mantle teamed up with fellow BitDAO initiative Sozu Haus for Good Hack NYC.

The Common team at Good Hack NYC
One of the most exciting aspects of this specific hackathon was the non-technical condition. When you think of a typical crypto hackathon, coding is one of the critical elements. Shifting the focus onto the ideas rather than immediate execution makes for an exciting dynamic, and brings out some projects that otherwise may not have been recognized. The other main criterion to this event was the focus on public goods and climate solutions in particular. Common fits the bill as a carbon-neutral wallet contributing funding to other public goods projects.
The conversation, which can be found on the Mantle Devs Twitter Space, began with introductions from the four Common team members; Katie Holt, Mec, Sydney Lai, and Penryn. Mec described the hackathon setting as "people interested in contributing to this space who are from all different walks of life". Overall the team was formed more on compatibility and an interest in working together, rather than a shared idea for the project they would be creating.
Lai, who has helped organize several other hackathons, mentioned how the time frame is important to consider when deciding on the scope of what can be accomplished. Good Hack was a three-day event, and shorter hackathons like it can be excellent opportunities to meet new people and generate ideas, while longer ones like ETHDenver are better suited towards bringing existing projects to market.
The project is "a wallet that would be the easiest way to support public goods and also offset your own carbon footprint for each individual transaction by 10x". With the ongoing discussion around energy consumption and the climate effects of blockchain usage, the Common team figured that introducing a way for individuals to be mindful of their own carbon footprint at the wallet level could be a big step in the right direction. When setting up a Common wallet, "you as a user can have the ability to just check a box that says yes, I want to carbon-offset everything I do." This has been done on certain chains and dApps, but adding it to a wallet wasn't possible until the recent advent of ERC-4337, which brought new account abstraction features to Ethereum. With the new capabilities ERC-4337 enables, Common can add a small fee to user transactions that get distributed to both Gitcoin public goods funding, as well as physical carbon-offsetting measures.
Cognoscenti
Next up we have the session with Cognoscenti, self-described as a "public goods prediction market" formulated at ETHDenver. The team consists of Lucas Schneider, Seth Howes, Benedict Altier, and Sam, four Oxford classmates who came together at the hackathon to build out the project. The premise of Cognoscenti is creating a platform where permissioned groups can bet on future events, for instance environmental impacts like global temperature changes over the next 10 years.

The Cognoscenti team at SozuHaus during ETHDenver
On the surface, mixing betting with sensitive environmental issues might seem somewhat degenerate, but prediction markets can be quite useful in estimating probabilities for future events that are difficult to quantify. Having predictors put their own stake on the predictions that they are making gives an incentive to provide well thought out and researched answers, making the resulting data more meaningful than a regular survey.
Altier described the use case as, "if you're a company or organization that wants to find something out about the world, you can set up this prediction market for your question… and have the ability to make it permissioned." This would typically mean limiting the market to only researchers or experts in the field you wish to gain information about.
One industry the team highlighted as potential users of the platform is that of banking and finance, where institutions have to assess risk for their portfolios under a variety of future scenarios. For example, large real estate investors would want some solid predictions about sea level rise if their portfolios consist of coastal properties.
As for deploying the platform on Mantle, the team commended the clear and detailed documentation available, and how easy that made the deployment process compared to some past hackathon experiences. Overall the team described building on Mantle as a "seamless" experience, and that anyone familiar with EVM deployments would feel at home.
(They also gave credit to the Sozu Haus venue, and in particular the hot tub, which was the location for much of the brainstorming that took place.)
Gumrua
At the ETHPorto hackathon, Carl and Mattia collaborated to develop Gumrua, the web3 version of Gumroad, built on Mantle Network. Their innovative project was awarded the Mantle bounty in the UX category. In a recent conversation at the Gumrua Builder Sessions, Mattia shared his appreciation for the hackathon's collaborative nature. He highlighted how the event brought together people with diverse skill sets and developer experiences, fostering a highly efficient team process.

The Gumrua Team at ETHPorto
Gumrua is designed to make uploading and accessing products seamless in the web3 space. A token-based system gates access to the products, requiring users to purchase tokens to access the content. The platform's native fiat off-ramp and on-ramp make it extremely user-friendly, enhancing its usability. The following quote from Carl was repeated throughout the spaces — that "crypto is for real people building real things." The duo was excited to build the foundations of something valuable, that people could benefit from in their daily lives.
When asked why they chose Mantle for their project, Mattia explained that the platform offered the lowest fees, highest throughput, and fastest transaction times. The duo aimed to create a truly innovative solution to deliver the best possible user experience, achievable only through Mantle's modular architecture.
Takeaways
Across all the conversations one common theme was how conducive the hackathon environments were to bringing new teams together to create innovative projects. Whether that was through the venues, panel discussions with industry experts, or the smooth execution process for standing up a project on Mantle, all three of the teams we talked to mentioned the balance of hard work and good vibes.
For Mantle, sponsoring these hackathon bounties is an excellent way to give builders a first hand experience with the chain, as well as facilitate new projects that are going to advance blockchain use cases and adoption as a whole.
Be sure to follow Mantle on socials and join our ever-growing dev community on Discord. More hackathons and dev meetups are soon-to-come.